6 Tips for Mobile Market Research – from the No Nonsense Tour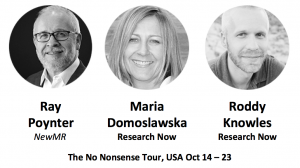 Here are six tips for using mobile market research. All six are drawn from the workshops I will be holding across the USA in October with Roddy Knowles and Maria Domoslawska from Research Now. To find out more about the workshops click here.
You do not get to choose what device your research participants use. About one-third of them are already taking your online surveys via mobile and the number is increasing. Your role is to make sure the experience is good and the data you collect is right. That is why device agnostic is so important.
In many cases mobile devices deliver the same results as PC-based interviews, but in some cases they don't – for example multi-select grids deliver different results on PC and smartphone. You need to know what works and what doesn't, and avoid the things that don't provide comparable information.
There is not a hardware or automated solution to making your surveys device agnostic. Good software helps, but intuitive design is critical. You need to design surveys with shorter questions, shorter answer lists, and in many cases shorter surveys.
Location-based research is about more than GPS. Locating people via iBeacon, cell tower, or Wi-Fi are all potentially useful options.
Mobile market research, especially mobile qualitative research, has introduced a number of new ethical considerations, such as gaining the permission for images of third parties and warning participants not to take videos in inappropriate (e.g. dangerous) situations. Your mobile research needs to factor these ethical concerns into its design.
In-the-moment research, and other participant-as-researcher techniques, make greater demands on people; you need to keep the tasks simple, reasonable, enjoyable, and reasonably compensated.
If you are in North America and would like to learn more about Mobile Market Research, join one of our workshops in October. Click here to find out more about them and the other No Nonsense workshops.