Customers are your last competitive advantage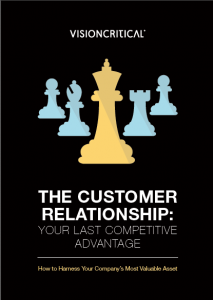 Most companies claim to be customer centric, but when you look at what they do you will see that the customer is all too often treated as a cross between an outsider and an enemy – someone to be persuaded, entrapped, or smooched, not somebody in true partnership with the brand or organisation.
I think there are two reasons why so many brands talk about being close to customer while at the same time failing to achieve it:
They don't realise that doing it right can make the business more profitable and more sustainable – so they just talk-the-talk.
They don't know how to operationalise a relationship with tens of millions of customers – so they don't try.
I think both of these positions are wrong and I have set out my observations and findings about how some companies are truly putting the customer into the decision making process in a new (short) book. In the book I highlight cases and show the tools they are using and the rewards they are achieving.
The four main points I make are:
1. Customer engagement comes in three layers, Listening, Crowdsourcing, and Co-creation – and the best companies do all three, using a variety of tools and approaches. Companies as diverse as Molson Coors, Kimberley-Clarke, SingTel, and Avianca are all using multiple strategies to sit side-by-side with customers.
2. Research from the likes of IBM, Aberdeen, and Forrester show that customer involvement can increase revenue and profits.
3. With the rise of the collaborative economy, for example Uber, AirBNB, and Kickstarter brands cannot sit above the fray, they need to be part of the answer or they will be part of the problem.
4. In the past brands and companies had product differences, but in most cases these have been eroded. The final competitive advantage for a company lies with its customers – not with the product or the service, but with what customers can help create and sustain.
However, the overarching message from all these cases and examples is that brands have to mean it, they can't just talk about involving customers, they have to believe in it and they have to make it happen.
If you'd like to read the full book you can download it from the Vision Critical website (in exchange for handing over a few details about who you are).
---