ESOMAR Council Report Back – 7 September 2019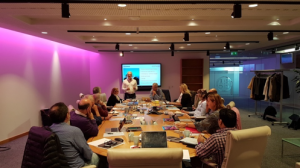 Posted by Ray Poynter, 8 September 2019
---
Our pre-Congress ESOMAR Council meeting was held yesterday, Saturday 7 September 2019, in Edinburgh, UK. The meeting was attended by President Joaquim Bretcha, Nikki Lavoie, Anne-Sophie Damelincourt, Lucy Davison, Nijat Mammadbayli, Alain Mizrahi, Umesh Kumar, Finn Raben (Director General), Marie-Agnès Mourot de Lathyle (Chief Finance and Operating Officer), and me; sadly, BV Pradeep was unable to attend due to family circumstances. The meeting was also attended, in part, by Mike Cooke (Chair Legal Affairs Committee), Enrique Domingo (Chair Professional Standards Committee), Reg Baker (ESOMAR Ambassador in North America), and John Smurthwaite (ESOMAR Ambassador APAC).
Feedback on CEO Forum
The Council meeting started with a report back on the recent CEO Forum. The forum was held on Friday 6th in Edinburgh and was the fifth installment of this event. It is always an incredibly useful forum in which to explore the key issues that our industry leaders see as relevant. Here, the focus of the meeting was widening the remit of market research and establishing it in "common parlance"- which raised an interesting discussion around what we do and what language we use to describe it – a consistent theme at all industry events!. One of the suggestions of the CEO forum was to create a CFO workgroup, to ensure our language better fits the needs of our customers.
Finance
A few years ago, ESOMAR reorganised to optimise its tax and trading status. The change meant that under an umbrella organisation (ESOMAR Society) there are two entities, a 'not for profit' organisation that provides the services for the advancement of market research (ESOMAR Foundation) and a trading company (the ESOMAR BV under Dutch law) that looks after the commercial elements. At the Council meeting, we received an update on negotiations with the Dutch Tax authority, which means we will be able to optimise (and change) our figures for the last few years and reduce our tax liability.
Membership
The Council received the latest membership figures and noted that the balance of membership continues to shift from individual to corporate. One of the interesting challenges for ESOMAR is to ensure that when a company becomes a corporate member that they register their relevant staff as members. One key imperative is the need to reduce churn, people who leave and therefore offset the benefit of gaining new members. It is clear that some people only join ESOMAR to be able to attend a specific event (i.e. they are almost planning to churn when they join), but we need to take this as a chance to show them the benefits of being a member.
APAC Report
John Smurthwaite (our Ambassador in the Asia Pacific region) provided an update. In APAC we have over one thousand members, spread over 32 countries. The key activities are to continue with the Best of ESOMAR events, set targets for the National Representatives, and focus on building membership. One of the key discussions related to China. China is already the 5th largest country and it is predicted (by me) to be perhaps the 3rd largest (behind USA and UK) in a few years. John is continuing to review what we need to do to expand on what can be offered in China, in partnership with local organisations.
North America
Reg Baker was appointed as our North American ambassador earlier this year and presented his report on the progress he has been able to make so far. The US is the largest research market in the world, but that is not fully reflected in the number of members ESOMAR has there. Note, there is going to be a North American breakfast at Congress on Tuesday morning, so if you are from North America make sure you get along there. Stand by for some big news in activities in North America over the next 18 months.
Legal Affairs Committee
Mike Cooke, chair of the LAC, explained the role of the committee as 'Defend and Promote' market research. The committee has had a substantial change in membership in the last year, making it more diverse. Mike noted that the legal and ethics side of market research used to be a Europe-centric issue, but it is now much more global. Everybody is interested in regulations, ethics, and what is coming next.
One example of ESOMAR's success is in the European copyright legislation. A network of lobbying (founded by ESOMAR) resulted in changes to the law to allow ALL market researchers to continue to utilise social media. (YES, this was nearly banned!!.)
Professional Standards Committee
Enrique Domingo the chair of the PSC reported on a year of progress. Enrique reported on two guidelines that have been completed and are being consulted on by members and stakeholders; i.e. the 'Primary Data Collection' and 'Duty of Care' guidelines. Amongst the other things that Enrique covered were two guidelines that are currently in progress. The first was Secondary Research (expected to be published in Q1 20) and the second is Organisational Accountability (to be published in Q3 20). Enrique is standing down at the end of this year, so Council gave him a big vote of thanks.
Review the strategy
One of the key tasks for the Council is to set the overall strategy and to monitor the organisations progress against that strategy. Since it is a year since the current Council was elected, we spent quite a bit of time reviewing the strategy and discussing the priorities for the next year and beyond.
The key strategies are
Broadening the membership base
Expanding our data expert status
Thought leadership
Redefining the global insight economy.
The Reps
The Reps (aka ESOMAR's National Representatives) are a collection of volunteers who are ESOMAR's local presence around the world. A global organisation needs a local voice and local ears in order to be relevant and that role is filled by our Reps. Over the last year, Lucy Davison (ably supported by Anne-Sophie Damelincourt and Alain Mizrahi) has done a lot of work to find out what the Reps need in order to do their jobs better. To help improve the process we are looking to improve communications, provide more templates, and establish minimum standards for levels of activity.
And next!
The Council meeting is over. Tomorrow the Congress starts, with most of the activities being from Monday to Wednesday. Watch out on social media to hear all the news, and better still watch ESOMAR TV and catch a cross-section of the best bits.