ESOMAR Council Feedback 7 and 8 May 2019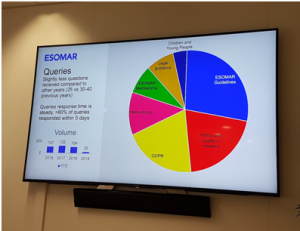 Posted by Ray Poynter, 9 May 2019
---
Monday May 6th was a public holiday in many countries, but not for the members of ESOMAR Council who travelled to Amsterdam for our quarterly face-to-face meeting. This was the secondmeeting of our term and we can see that the group is beginning to jell, in terms of acting as a body responsible for strategic oversight of a large organisation.
We were fortunate to have all but one of our members able to attend in person. In attendance was: President Joaquim Bretcha, Vice President Kristin Luck, Treasurer Anne-Sophie Damelincourt, BV Pradeep, Nikki Lavoie, Niels Schillewaert, Alain Mizrahi, Lucy Davison, Nijat Mammadbayli and me (Ray Poynter).
Focus on Finance and Membership
The two most important issues for the ESOMAR Council to focus on are the finances and the membership, therefore, we started on Tuesday morning by reviewing both. The main pressure on ESOMAR finances relates to generating advertising revenues, for example ResearchWorld, Directory, and events. ESOMAR aims to run an efficient organisation with great services for members. The revenue generated by commercial activities subsidise the cost of membership and price of attending events – so it is important that the commercial activities are as successful possible.
One of the interesting elements of the report about the ESOMAR Directory was the number of cases where organisations had cancelled their entries (to save money) and who then had come back quite quickly because of the sharp drop in enquiries. The Directory is about to go through some significant changes which should improve its performance (i.e. help more people find more services from ESOMAR companies).
The events and finance teams were able to report that the recent LatAm conference in Brazil had hit its financial targets and the upcoming APAC Conference in Macau was likely to hit its targets too.
The Growth and Implications of Corporate Membership
Over the last few years ESOMAR has permitted and promoted Corporate Membership and this has several impacts on the nature of membership. An individual member who changes keeps their membership until the end of the year, and frequently renews their new membership when it is due. (Life hack, when discussing your package with a new employer, ensure that they will cover the membership of any trade bodies and professional subscriptions you are currently signed up to – this is often much easier to discuss before agreeing to the new job, as opposed to bringing them up when they are due for renewal). When a designated Corporate Member changes employer they cease to be a member and their ex-employer will nominate a replacement. At any moment in time, a number of the corporate memberships are not fully allocated, so it is worth you a) checking to see whether your company is a corporate member, b) to find out what services that means you can access, and c) to see if there are any unallocated spots that you could apply for. Click here to find out who the corporate members are.
Local Events
When the new Council was elected one of the priorities was to increase the number of local events. At the meeting we heard that there has been a massive increase in number of events – more than double the 2018 figure. This is the result of great work by many of the local reps, by the ESOMAR team, and by individuals (especially ESOMAR President Joaquim).
Government Affairs and Professional Standards
One of the most important (and quite expensive) parts of ESOMAR is also one of the least visible. These are the Government Affairs and Professional Standards services. This team lobbies regulators and Governments for laws that facilitate the proper role of market research, they create and oversee the framework for the legal and ethical use of market research, and they provide legal advice. Examples of this work includes managing to exempt market research from the new European Copyright legislation that could have required anybody conducting social media mining to pay royalties to the creators of every post and image they mined. The legal services include the GDPR consultancy services offered as part of ESOMAR Plus. The picture above highlights the sorts of queries that the team have been dealing with this year.
There is a growing demand for ESOMAR Artificial Intelligence experts. Are you an expert? If so, let me know and I will connect you with the ESOMAR team.
ResearchWorld
There have been big changes to ResearchWorld, including a shift to two print issues a year and a thoroughly re-vamped digital version. We only have a couple of months of data at the moment, but the early numbers look really promising. Please check out the new ResearchWorld and let the team know what you think.
Diversity and Inclusiveness
Much of the work of the ESOMAR Council is delivered via working groups. Nikki Lavoie and Nijat Mammadbayli reported on the progress of the diversity group, a report back that included a change from focusing on diversity to inclusivity (i.e. from an attribute to a benefit). Many of the implications of this group are already taking place, such as the new sexual harassment policy and the need to ensure that future Councils are representative (see section on the composition of Council below).
Client Steering Group
BV Pradeep highlighted the progress that is being made to enhance the link between clients and ESOMAR. As well as the Client Summits, and client-specific meetings at events there is also a think tank and client sounding board. If you are client side and would like to be more involved with these processes, email me and I will connect you with Pradeep.
Terms and Roles for Council
At the 2016 ESOMAR Congress there was a proposal to change the terms of reference for the Council so that its members would serve for three years before facing re-election instead of two. This recommendation was withdrawn because of concerns in some quarters that this had not been sufficiently thought through. The main reason for the proposal was a general feeling amongst the members of the Council that it was hard to get enough done during two years, since the Council only meets four times a year, and the first and last meeting of a Council are handover meetings, meaning that the strategic plans have to be designed and implemented in just six meetings.
Following the election of the new Council in 2018 Niels Schillewaert (who as the retiring previous President sits on the Council as a member for one term) was asked to investigate and consult on the best changes.
With respect to the length of the Council term, there is a feeling that this Council has been able to align itself very quickly because of some changes to the working practices (which did not require changes to the rules), for example interim phone meetings, sub-groups with clearly defined tasks, and the increased level of regional activity mentioned above which has brought more people into regular contact. These changes have persuaded the Council to stick with two-year terms (at least for the time being).
However, other proposals that were put forward for Council review were….
Allowing the President to stand for a second term;
Making the Vice-president a nominated position rather than an elected one, and
Allowing for a certain number of Council members to be co-opted onto Council
(following strict criteria)
Instituting a process whereby under-performing Council members could be removed from Council.


While the first two of these proposals are relatively self-explanatory….
The proposed system of performance management for Council Members is to ensure that everyone on Council can and does contribute to the management of our Society. At present a Council Member who does not attend can be removed, but an 'underperforming' member can't. More work needs to be done on this and more work on better defining the work/role of individual members, but the plan is to have a clear system which newly elected members will sign up to, and will be measured against.


With regard to co-opting members, it is clear that one concern with the current elections process is that it can result in regions not being represented (for example, we would not want a situation where nobody on the Council was from Asia or LatAm), or skill sets not being represented (for example we might find that Council really needed a Data Scientist), or a constituency (we would not want a Council that did not have a single client-side member). So, we are proposing that the Council can co-opt up to two voting members to join the Council. The Council already has the power to co-opt, but at the moment these people can't vote. The co-opted members will be appointed by the Council with advice of the Director General and ESOMAR's professional staff in order to achieve the aims of ESOMAR as approved by the AGM including diversity, skills, and representatively
Generally, the Council were in favour of these suggestions, but final proposals do need to be prepared and circulated to the members, in advance of Congress and the AGM.