Generation Digital Detox?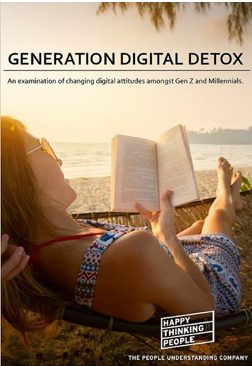 Guest post by Edward Appleton, 29 November 2019
---
Millennials, Gen Z – totally hooked on Social Media, chatting, sharing, smartphone obsessed, with less and less time for the "real world". True or false?
If you have a teenager in the family, you might agree.
In our research around the world, we're beginning to pick up on something different – a growing push back against digital, an awareness of the hold it's taking, concerns about potential addiction.
We wanted to understand this emerging sense of "digital discomfort" better so carried out our own studying, exploring with young folk in India, UK and Germany.
The results are fascinating reading – one participant talked for example about digital getting in the way of being in touch with the immediate surroundings, in this case nature:
"….I definitely feel my brain is much happier when I'm looking at the leaves on the trees rather than FB"
Another enthused about a de-digitalized nightclub scene in Berlin:
"I love the smartphone-ban in Berlin nightclubs. You engage with the people around you. In the UK it's often just people doing Insta stories left, right and centre … it's annoying but it's actually quite sad"
Interested?
The report touches on seven facets of this new attitude to digital:
From New Normal to Creepy
Present but Absent
I Can't get no Satisfaction
Back to Real – Books, Alarm Clocks, Music….
I Made that Myself!
The Power of In-Person
Break that Habit?!
It's free of charge, it's in English and can be downloaded by clicking here.
You can find out more about Happy Thinking People by clicking here.