Is market research really a career?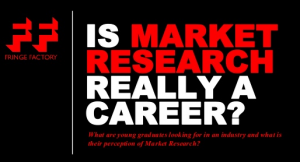 Yesterday, at the BAQMaR Conference, the Fringe Factory launched its study into what young graduates are looking for in an industry and what is their perception of market research.
The Fringe Factory surveyed over 1800 graduates across nine countries. The report produced five "eye-catching insights and recommendations". But for me one of the key points was that only 13% of the young people surveyed said they would consider a job in market research, and only 3% listed it as the best sector.
To find out more about the study, the Fringe Factory, and the other insights and recommendation, look at the presentation below. The presentation is hosted via SlideShare – this means you can advance the slides and by click on the four arrows in the bottom right of the presentation window, turn it into a full screen presentation.
The Fringe Factory is supported by ESOMAR. To find out more about the Fringe Factory, visit their website.