MRMW – Market Research in the Mobile World – an essential part of the mobile picture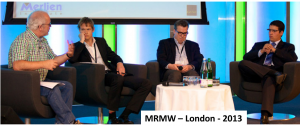 I am lucky enough to be invited to take part in a wide range of market research events, including those organised by the trade bodies, by specialist conference groups, and by innovators. For many years many market research conferences had been getting more and more similar, and less and less interesting as they sought to play to a wide audience.
However, in recent times that has changed, and one of the best examples of the change is the MRMW (Market Research in the Mobile World) series of conferences, organised by Merlien. I have been lucky to be involved in several of the MRMW events and I think what they offer is:
Focus, the MRMW events focus on mobile, this has helped develop the industries focus on developing new mobile approaches.
Series, the MRMW has several events a year and the series dates back to 2010. This has created an ongoing dialogue. Ideas are developed over time, rather than assuming they will appear fully fledged.
Global, the MRMW conferences are held in North America, Europe, Africa, and Asia. This enables the series to draw on regional strengths, and then take those strengths to new markets.
Innovations, for a small organisation Merlien have been very successful in introducing new faces and ideas, for example David ZaKariaie the founder and CEO of Glassic who brought copious sets of Google Glass for attendees to experience.
Chicago, May 27-30
The next MRMW is in Chicago, May 27-30, click here to find out more. Unfortunately, I can't be there, but my hot picks from the agenda are:
The session on where investments are going in mobile MR, with Simon Chadwick.
The market research on trial session, with Dan Foreman.
Google Glass, from gimmick to tool, with David Zakariaie.
Device agnostic research, with Zoe Dowling.
Privacy and engagement – how far can you go, with Reg Baker.
I look forward to watching their contributions by video reply – check out the MRMW site to access their videos.
If you can't make Chicago in May, perhaps you can make Berlin in September and/or Cape Town in November – the call for papers for both of these events is still open, so consider presenting something.