The social conversation about the Festival of #NewMR



Check out the Social Media Conversation about the Festival of #NewMR!
Our friends at NorthStar Social Media Intelligence put together a live dashboard in Talkwalker to monitor the social media conversation about the Festival in real-time throughout the week.
After the Festival is over, NorthStar will be providing a recap report, available for all attendees.
Click on the dashboard image below to go straight to the dashboard & check out the live conversation!
NOTE: once you enter at the dashboard, you'll see the first tab, which shows overall volume of the conversation.  Make sure to hover over to the left of the dashboard to see all of the sections, including breakdowns of conversation sentiment, theme clouds, influencers, top conversation drivers, geographic heat-mapping, demographics & interests!
For any questions & business inquiries, contact Frank Gregory, NorthStar's Social Media Intelligence Lead, at fgregory@northstarsg.com.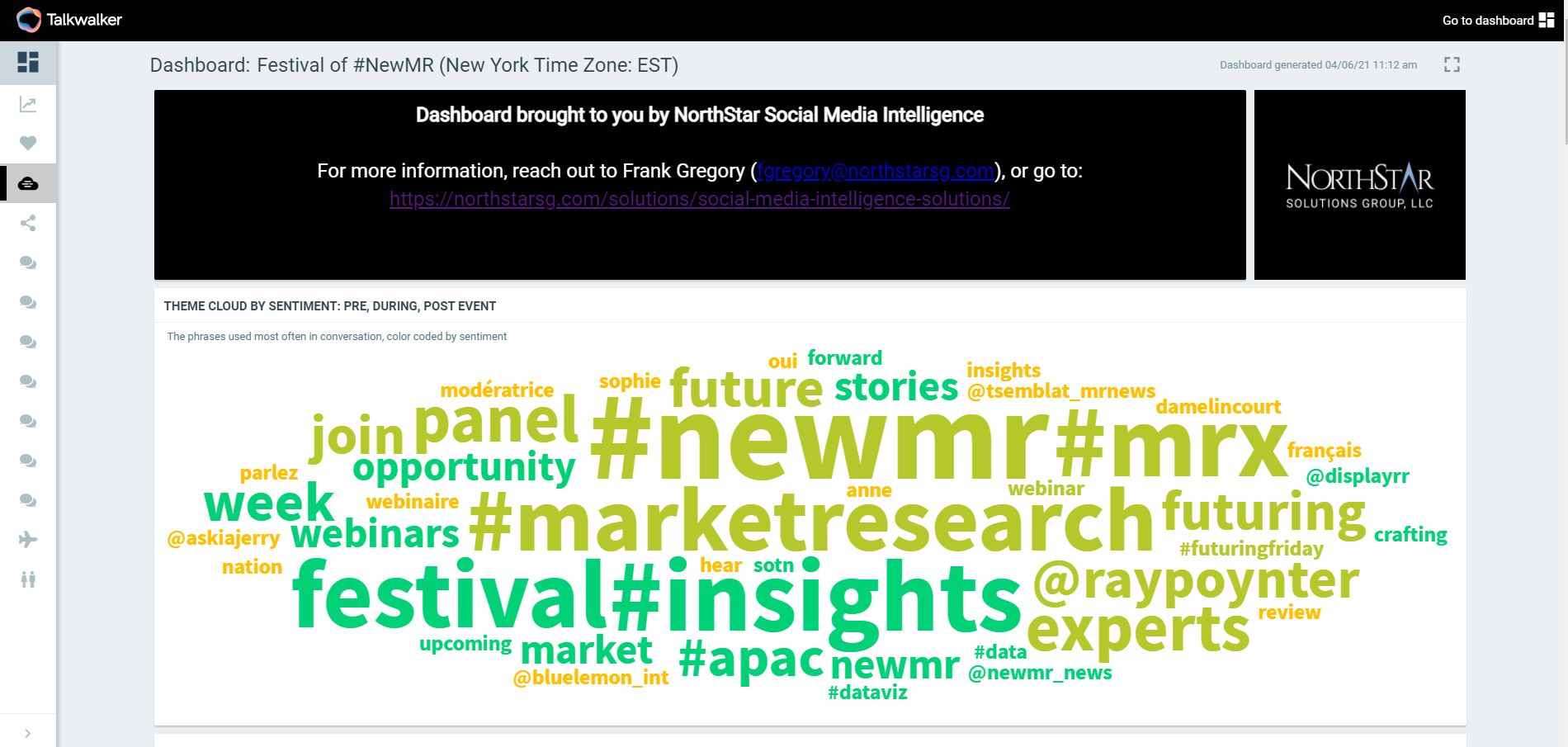 NorthStar Social Media Intelligence is a social media research & analytics provider that supports researchers, research firms (including Festival speaker Katrina Noelle's team at KNow Research), ad agencies & marketers.
NorthStar acts as an extension of their clients' team, offering:
Social Conversation Topical Analysis (aka Social Listening) – what are people saying about _____ topic on social media, blogs, forums & news articles, both historically and currently? (see COVID Vaccine Perception Analysis example below)
Audience Segmentation & Affinity Analysis – what are the common interests & lifestyle traits of people who follow ____ brand on social media?
Influencer Evaluation Analysis – how authentic & engaged is ______ social media's audience, and is there a mutual overlap between their audience & ours?
Platform Performance Analysis – wow does our brand's social media content compare to our direct competitors' content, and other leading brands across industries? Has our latest campaign made a positive impact?
NorthStar's analysts are fluent in 40+ Social Intelligence tools, including their preferred Social Listening tool: Talkwalker.
Talkwalker is a leading conversational intelligence platform that delivers real-time & historical customer insights to brands, researchers & agencies around the globe. Their unmatched coverage (thousands of digital & social channels in 187 languages), along with best-in-class data visualizations, dashboarding & alerting capabilities, has made Talkwalker a leader in the Social Intelligence space, as recently recognized by the Forrester Wave.
**********************************************
When NorthStar isn't using Talkwalker to monitor events like ours, they are using the tool to tackle important cultural conversation topic analysis projects on behalf of their research firm clients.
One recent example is their COVID Vaccine Perception Analysis, where they pulled in US social media conversation about the COVID vaccine from the beginning of the pandemic to now, providing in-depth insights on sentiment & emotion towards the vaccine in different regions.
The analysis helped the research firm complement an upcoming qualitative & quantitative study, which provided a state-level public health department with insights on how to tailor messaging in different areas within their state to effectively promote vaccination and quell fear/distrust/hesitation.
Check out the LinkedIn article Frank wrote about the study, and view the live US COVID Vaccine Perception dashboard by clicking on the image below!