Ready for the future of market research, marketing & data analytics?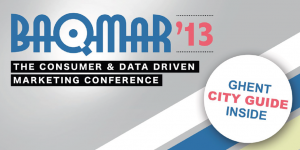 Our industry is in transformation and it's sometimes hard to keep track of all the new developments. That's why the 2013 BAQMaR Conference will bring you up-to-speed in less than a day. 14 world-class speakers talk about what's next for market research & data mining on the 12th of December in Ghent.
Join 125+ attendees from 8 different countries for:
afternoon session on trends in market research & marketing;
afternoon session on trends in data mining & analytics;
evening session with top client-side speakers & a 'futurologist'; Or just buy a full day ticket! 🙂
Don't miss this great content and unique networking opportunity (30% client side attendees).
And visit Ghent – the best kept secret of European cities according to National Geographic! Here is a little city guide to help you plan your trip…
Register today via: www.baqmar.eu/conference.
Early bird rate is still open (save 25% on the full price).
See you in Ghent,
the BAQMaR team