Research communities in APAC?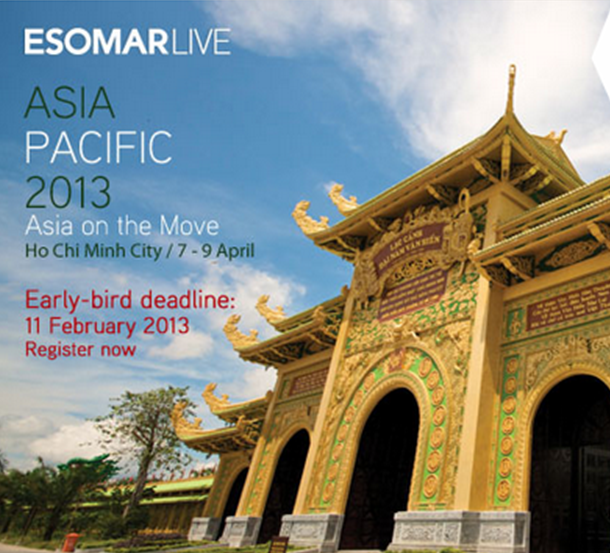 I am just about to submit my paper to ESOMAR on research communities in Asia Pacific, and I would love to bounce my key points off the NewMR crowd.
Globally it looks as though about 50% of researchers interested in New market research are in an organisation which is either buying or selling research communities (e.g. MROCs, Community Panels etc). And this figure is the same in APAC as in Europe and North America?
Globally about 6% market research agencies are offering research communities, and this is similar in APAC?
In APAC, excluding Japan, Australia, New Zealand, communities have developed more slowly than in Europe and North America?
In APAC, excluding Australia and New Zealand, the majority of community projects have been MROCs (i.e. qual and relatively small) rather than Community Panels (larger, quant + qual)?
In APAC, excluding Australia and New Zealand, the majority of community projects have been short-term (weeks rather than years)?
One of the key factors that limits large scale community projects in APAC is the absolute size of the research market (often $100million or less per year)?
The relatively small size of research markets in much of Asia often requires projects to be multi-country, multi-ethnic, multi-language from the start?
I would love to hear support or opposition, and I am looking for a few key quotes to include in the paper and the presentation.
---
This part of the post has been updated to reflect the tremendous amount of help and suggestions I have received. What is clear is that there are a wide variety of approaches, and the picture is an evolving one with new partners and offices opening on a regular basis.
Western community specialists with offices in APAC include:
Vision Critical (Japan, Hong Kong, Australia)
Face (Singapore and Hong Kong)
BrainJuicer (China and India)
Communispace (China)
International, general or field-focused, companies offering communities in APAC include:
Ipsos
ToLuna
Lightspeed/TNS
Pulse
Many Western companies are offering research communities in APAC from their Western locations, some with local partners, some with local moderators.
APAC based companies offering communities include*:
ABN Impact (Thailand and Hong Kong)
Cimigo (China, Hong Kong, India, Indonesia, Macau, Singapore, Vietnam)
Colmar Brunton (Australia)
Lucid360 (China)
Buzz Channel (New Zealand)
Camorra Research (New Zealand)
Index-I (Japan)
Latitude (Australia)
Control A (Japan)
Mitsubishi Research Institute (Japan)
Direction First (Australia)
* All lists tend to be partial. However, the list of APAC based companies is likely to have missed most APAC based agencies who are not actively engaged with English-speaking social media or English-focused organisations such as ESOMAR – and some that are. If you feel you have been missed, please contact us as we will add you to the list.
If you know of others, please add them via a comment or email me, and we will update this page. On another occasion we will look at platforms and software solutions.