The Five Top NewMR.org Posts of 2013 – so far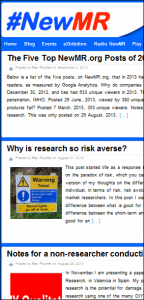 Below is a list of the five posts, on NewMR.org, that in 2013 have been read by the largest number of unique readers, as measured by Google Analytics.
I ran the analysis to see if I could spot any patterns in what made a successful NewMR post. However, so far, no clear pattern is emerging. Any thoughts or suggestions?