The Gen2 Advisors' Social Media Analytics Report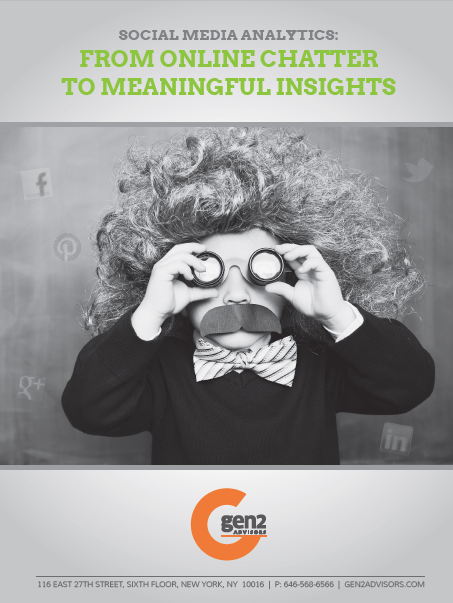 The Gen2 Advisors, headed by Lenny Murphy, have produced an 80 page report on Social Media Analytics, entitled "From online chatter to meaningful insights", which is available for purchase, and they have produced a free 10 page resource as a 'How to' guide (click here to access the free guide).
The Gen2 Advisors were kind enough to share a copy of their full report with me and here are my thoughts, reactions, and observations.
The report starts by highlighting that social media analytics is necessary but not sufficient. Brands need to use it, otherwise they will miss key insights, but on its own it can't provide everything that is needed. Although the report is a bit more evangelical than I would be, it does, mostly, manage to stay on the metaphorical 'yellow brick road', by providing information and views that are useful, rather than just hype.
The report is targeted at marketers who want to use social media analytics – which makes it of great interest to insight professionals, since we want to know what the marketers know (and ideally be a step ahead of them).
End-user view and quotes
Within the report, extensive use is made of interviews with client-side users of insights, including comments from:
Citigroup – calling for more judgement and less waiting for quantification, if the quantification is going to be too late
P&G – looking to use social media as a 'real time equity monitor'
McDonald's – the value of reading real conversations on Twitter
USA Marine Corps – listening to Facebook conversations to guide its future SM activities
This is a really useful approach as it helps frame social media analytics within the client's ecosystem.
Case Studies
The report has several case studies, although they are a bit shorter than I would like, but I am a case study junky. Interesting examples include:
Microsoft and Alterian linking Twitter information, from several thousand volunteers, to demographics and answers to surveys
Shell's crisis management around Greenpeace's ArticReady.com
Macdonald's pilot and adoption of social media insights
Key Sections of the Report
Key items covered by the report are:
Monitoring brands and brand equity
Advertising
Public relations, promotions and crisis management
New product development
Monitoring product launches
Customer experience and support
How to establish a social media insights program in your organisation
The implications for market research
How to choose a system or vendor (including a long list of social media monitoring software and platforms)
In my opinion, the least convincing section is the one on the implications for market research. But I think that for most readers this will also be the least relevant. Most readers will be more interested in the breadth of what is happening, how companies are using it, and how to go about implementing it. Some people are interested in the implications for insight professionals, and they will enjoy agreeing or disagreeing with the opinions in the report.
A guide for neophytes?
Most of the report will not come as a surprise to people already active in the field, although there are certainly nuggets for them – especially some of the cases and arguments. However, the strength of the report is for people completely or relatively new to the field, people who want to understand the key techniques, wants to know the main arguments, and would like to hear some case studies.
Overview
The report is a relatively balanced view from perception of people who really believe in social media analytics. A balanced view from sceptics or neutrals would differ in places, but the key points would be the same.
A good example of the impact of it being written by enthusiasts is the point about crisis management where the report makes the point that monitoring social media can allow a brand to "Nip potential PR crises in the bud." My view, as a sceptic who uses social media analytics, is that there too many potential crises in social media, so issues spotted in social media should be put on a watch list, and if they start to spread to other forms of media, or start turning up in other locations, then deal with them. The difference between the enthusiast, the realist, and the sceptic is mostly one of degree – pretty much everybody agrees brands have to listen to social media.
The report includes some great advice, for example 'look beyond the brand category insights'. But probably its key strength is in emphasising the breadth of social media analytics and the wide range of organisations that are benefitting from it.
One minor niggle is that the report has a major USA slant. However, this is not a major problem, as most of the learnings are directly transferrable – especially to other Western and/or developed economies.
There are some items which I disagree with. For example, the claim about the accuracy of automated sentiment analysis. But, unless I had written the whole report, there were bound to be areas of disagreement. No reader of any report (or blog post) should assume that everything in it is right.
Want the report at 50% of the cost?
Gen2 Advisors have offered readers of this blog a 50% reduction in the prices of the full report (its full price is USA$ 490). To buy the report with a 50% discount you need to go to the Gen2 Advisors website and use the following discount code GEN250?