Using a Big Picture approach to understand the key trends in mobile market research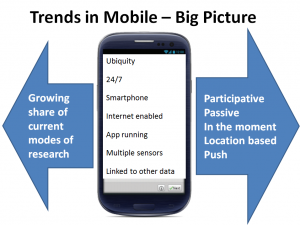 During the last week I have made three separate presentations in Tokyo on the topic of the key trends in mobile market research and I have found that creating a big picture has helped get my message across. I use the big picture as the first and last slide of the presentation to show where I am heading and to sum up the message. The audience seem to feel that a big picture makes the ideas clearer and helps provided an integrated understanding of what is happening and why.
So, in this post I share my Big Picture of the Key Trends in Mobile Market Research.
Why is mobile so interesting?
The key reasons are all shown inside the phone. Ubiquity refers to the fact that about 70%-80% of the world's adults have a mobile phone, and the penetration is growing. Mobile phones are the most widely owned device on the planet, and they are changing the way humans communicate.
Because people have their phone with them all the time, 24/7, they provide a better way of contacting people. Better than waiting for people to answer the phone, open their email, or answer the door. The phone is with people 'in the moment', i.e. when they are actually doing things.
Increasingly phones are smartphones and connected to the internet. In 2014 we can't assume that enough people have smartphones connected to the internet to ignore other methods and options, but the trend is towards most of the people that we tend to research being fully smartphone and tablet connected.
Mobile devices can do so much more than just surveys, passive data, push notification, and location based services are just the start. The phone is becoming a window into people's lives.
Mobile is already a major part of 'traditional' research
Marketers, insight professionals, and market researchers need to be aware that mobile is already a major part of existing research methods. In terms of CATI, the amount that is conducted via mobile phone has been rising in most developed markets and is currently around 40%-60% in many markets. In the emerging markets, such as most of Africa, the mobile percentage is much HIGHER. In countries where incomes are lower, it tends to be just the well-off who have a fixed-line telephone, most people have just mobile phones.
20%-30% of online surveys are being attempted by people using mobile devices (phones, phablets, and tablets), so most people doing online are already doing mobile.
In terms of face-to-face and qual research, mobile devices are increasingly being used, for example in mCAPI where the interviewer has a tablet or phone instead of a clipboard.
Mobile is creating/expanding other forms of market research
Participative, or WE-research, is enlisting the person previously known as the respondent to be an active player in the research process. Participants are seeking out experiences, capturing photos and videos, and suggesting commentary. This reaches places that researchers could not reach and empowers customers and citizens.
Passive data collection adds objective information to the subjective picture the participant can supply, and with no effort required by the participant, and no reliance on their memory. Passive data is telling us what people do, when then do, how long they do it, and in many cases where and with whom they do it.
In the moment research is reminding us of how bad our memories are. Collecting fresh insights, in the moment when products and services are being experienced is opening the door to much more accurate, detailed, and relevant research.
Location based services are allowing us to follow people through their day and 'push' requests to them based on where they are and what they are doing – giving us the best possible in the moment data.
Want more?
Of course, whilst a big picture is all some people need, a detailed picture is what others want. For mobile market research the detailed picture is going to be available in about a month with the release of our new book, "The Handbook of Mobile Market Research", which is being published by Wiley and is available from Amazon. You can download a free chapter from the NewMR website, click here.
---