July – November Lecture Series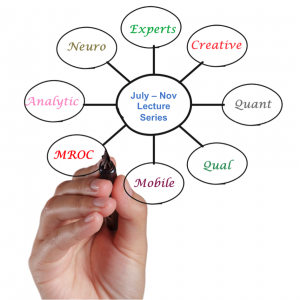 Listen to leading experts deliver 40-45 minute introductions to key NewMR topics, with plenty of time for Q&A afterwards.
Survey Analytics are our 2014 Platinum Sponsor, helping us bring you a year of events.
Access all slides and recordings via our Play Again page.
---
Synopses
A smart guide to being an entrepreneur
Tips, recommendations and advice from somebody who's been there
Kristin Luck, from Decipher.
15 October, 2014 – 10am New York time, 3pm London time.
Serial entrepreneur Kristin Luck, draws on her experience and her research with peers to share the highs and lows of being an entrepreneur.
If you are thinking of starting down the entrepreneurial route, or if you and already establishing your and your business, this session will provide, advice, inspiration, and a few warnings.
To get a flavour of where Kristin is coming from, check out her article in Fast Magazine, What an MBA can do for you, and what you can do for yourself.
---
The new Insight Management profession. Opportunity or threat?
Steve Wills, from Insight Management Academy.
16 July, 2014
Information has always been valuable – but only if it is used. The answer isn't better information – it is greater impact!
That is why the Insight Management profession has emerged, dedicated to getting information and insight used.
This presentation will:
Outline why senior decision makers so often ignore the best information
Explain the role of Insight Management, and how it can make analysis so much more effective
Explore the impact of Big Data in this area
Examine how it sits alongside market research
Briefly describe its development as an academic discipline
Give some classic examples
---
What's hot in market research?
Ray Poynter, from The Future Place.
20 August, 2014
There has been an explosion in the insight business. New technologies including location, mobile, social, and passive data collection have expanded the range of what can be collected. Changes in our understanding of how the brain works have led to innovations such as behavioural economics, gamification, and neuroscience. New approaches such as big data, social media listening, A/B testing, and DIY have challenged the position of market research as the prime provider of insight. All of this increases the need to monitor trends, to asses what is hot, and to prioritize where to put your time and resources.
In this presentation hear Ray's take on what's hot, what is trending, and the key changes to focus on.
---