Handbook of Mobile Market Research – Launch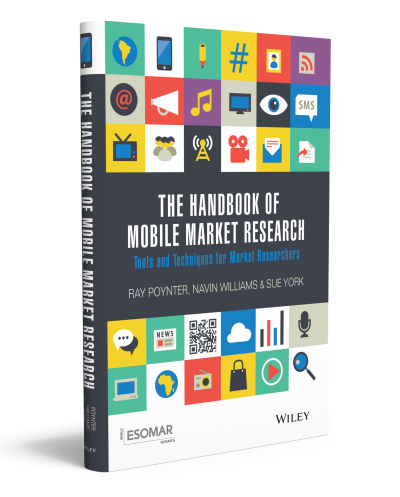 Thursday, 11th September, 2014
APAC, 4pm Sydney.
Europe/America, 3pm London/ 10am New York.
Access the slides and recordings from our Play Again page.
The Handbook of Mobile Market Research is the prime reference for anybody interested in learning about how to use mobile devices in market research. The book has been written by Ray Poynter, Navin Williams, and Sue York and is available from Wiley, ESOMAR, and online bookstores.
By attending our virtual launch on 11th September, you can find out more about:
Why mobile research is so important?
What the key trends are?
The extent to which mobile has already arrived
The key new developments
The Sessions
The times and confirmed speakers for the sessions are shown below, with more still to add.
| Sessions 1, APAC | Session 2 Europe/America |
| --- | --- |
| 2pm Singapore, 4pm Sydney | 10am New York, 3pm London |
| | |
As well as being the launch of the book this session will be an invaluable briefing on why you need to be incorporating mobile into most of the things you do.
Sessions
There are two sessions for the launch, both on Thursday, 11th September, with the same core team, but different guests.
The session slides and recordings can be accessed from our Play Again page.
APAC, Session 1, 4pm Sydney (which is 7am London, 11:30am Mumbai, 2pm Singapore).
Europe/America, Session 2, 3pm London (which is 9am Chicago, 10am New York, 4pm Paris).
---