Applying Machine Learning to Market Research
Webinar 20 June, click here to register.
1) Finding the best name quickly – an intelligent algorithm for naming and concept tests Nadja Böhme, CEO at Factworks & Graham Williams, Research Director at Dynata – sponsored presentation.
2) An Introduction to Machine Learning for Insight Professionals Ray Poynter, NewMR – presentation.
3) The Future for AI, Machine Learning and Insights – Panel Discussion Nadja Böhme, Graham Williams, & Ray Poynter.
Access all the slides and recordings from NewMR webinars back to 2010

To search all of our events, blogs, and presentations, just type a search term in the field below and hit return.

Click here to access the slides
Click here to access the slides
---
Ray Poynter presents"How to use Correlations to find Insights"
Correlation is one of the most widely used statistical techniques in market research and insights and it is something which every researcher should be comfortable with.
In this 30-minute 'How To' Webinar, author and NewMR founder Ray Poynter, will cover:
– What is correlation?
– What is r-squared?
– When and why should we use correlation?
– How should we use correlation?
– Potential problems with correlation
– Alternatives to correlation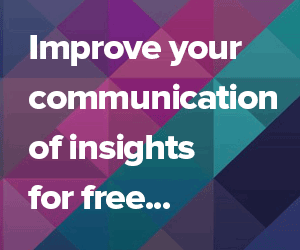 Colleen Ryan is interviewed by Ray Poynter about the future of insights and her research into what clients want and what is keeping them up at night.
About NewMR
NewMR organises online events, this website & the LinkedIn NewMR group. NewMR is managed by Ray Poynter & Research Strategist & Chief Curator Sue York, & is operated by The Future Place. To read our Data Privacy and GDPR statement, click here. Keep in touch by signing up to our mailings. NewMR.org is funded by donations & sponsorship.
Our 2018 sponsors are Gold Sponsors: Infotools, QuestionPro, Watch Me Think, Confirmit, Further, P2Sample, Netquest, conjoint.ly – Silver Sponsors: MRII, AMAI Mexico, Happy Thinking People – Communications Sponsor: Keen as Mustard.