5 things researchers should do in 2016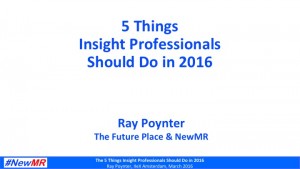 Last week, I shared my 5 top tips for things I think market researchers should do in 2016, as my closing keynote at IIeX Amsterdam. These tips were both a response to the ideas presented at the IIeX Conference and also a general view of the challenges and opportunities in 2016.
1 Mobile First
In 2015 the talk was about the need to be device agnostic, i.e. the need to make sure that research exercises, for example surveys and online discussions, worked on PCs, tablets, and smartphones. Whilst that is still true today, the focus has shifted and is continuing to shift from device agnostic to smartphone. With a few exceptions, in 2016 mobile first is the key design element. Start by designing research so that it will utilise and work with a smartphone, and as a second consideration assess whether and how it can also be configured with tablet and PC. In most cases, it is straightforward to ensure research can also embrace tablet and PC, but not if location, push notification via beacons, the use of apps, or the collection of in-the-moment information is a key part of the research.
2 More time talking with the users of research
One of the big trends that is taking place at the moment is customer centricity – as evidenced by the popularity of Denyse Drummond-Dunn's new book Winning Customer Centricity. This trend should also be true of market researchers and the users of market research, e.g. the insight managers, the brand managers, and the many other users of research. When I talk to the users of market research they typically tell me that researchers contact them too rarely, ask too few questions, and very really contact them when not being paid to contact them. Techniques like storytelling and agile research require the researcher to have a good understanding of the research users, and that requires spending time talking with the users of research.
3 Focus on emotion
One of the biggest shifts, over the last few years, in our understanding of people and their behaviour has been the realisation that people are feeling machines that think, not thinking machines that feel (to paraphrase Damasio). This finding, which is at the heart of behavioural economics and neuroscience-based research, has shifted the focus towards emotion and away from 'facts'. The most important technology in 2016 will be the smartphone; the most important driver of new research approaches will be emotion.
4 Add one speciality
In terms of your personal development, you are either going forwards or going backwards. My recommendation (and something I do myself) is to learn a new something each year. In most cases it does not matter too much what that something is, the key is to add additional perspectives, increase the size of the toolkit you can apply, and to keep you fresh. Recent examples from researchers I like and respect include: learning coding, learning R, taking a course on semiotics, attending and improv course, and studying the ukulele.
5 Be an automation winner, not a loser
The history of automation, from the industrial revolution in 18th and 19th Century, to the rise of computers in the late 20th Century have tended to produce great rewards for the winners (typically the early adopters and society in general) and great losses for the losers (for example bank tellers, travel agents, and face-to-face interviewers). Automation is beginning to change the face of market research, from DIY surveys, to expert systems for project design and analysis, to automated charting, to artificial intelligence. My guess is that over the next 5 to 10 years automation will result in the loss of about 60% of current market research jobs and create perhaps an additional 20% – meaning there will be plenty of losers and winners. If you want to be a winner not a loser you should be acting now. Strategies that will help you be a winner could include:
Taking a leading role in the automation of tasks, rather than being the one automated.
Enhancing your people related skills (for example, presenting, client management, staff management, coaching, and teaching).
Being a user of automation, increase your productivity and usefulness by utilising the automation that exists around you and by introducing new automation tools when they appear.
Focusing on things that are hard to automate, for example consulting and one-off, bespoke projects.