A new book to help people to understand insight communities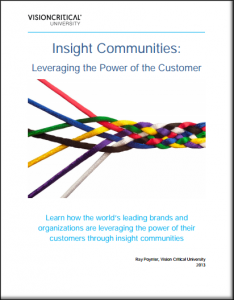 By common consent, research communities seem to have been the fastest growing new research approach over the last few years (a view that was supported by the latest GRIT report). Indeed, in some sectors, such as media, brands are beginning to worry about being the last to adopt the idea of having meaningful and on-going conversations with their customers.
However, given the speed that the area is moving, there are a variety of definitions and concepts being used. For example, one hears talk of MROCs, consumer consulting boards, and community panels, to name just three. My preferred term is insight community, and that is the title I have used in my latest book "Insight Communities – Leveraging the Power of the Customer". The book has been produced by Vision Critical University and I'd like to record my thanks to them and all of those who have helped review material and helped source the many case studies used in the book.
The book is a short read, but covers key elements such as: short-term versus long-term, large versus small, and branded versus blind. The book is packed full of examples and case studies from organisations such as NASCAR, Discover Communications, CBS Outdoor, Diageo, Banana Republic, Avianca, and Cathay Pacific – covering Asia, North America, Latin America, Europe, and Australia.
As well as being an online book, professionally produced bound copies are available from Vision Critical's London and Sydney offices.
Given the topic of communities is such a dynamic field, I'd love to hear your thoughts, suggestions, and ideas about research communities, where they are going next, and the ideas expressed in the book.