An Introduction to Market Research Tables – Request for Feedback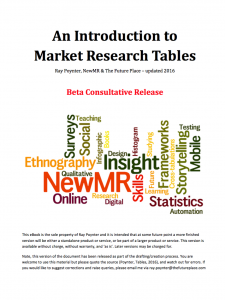 Most market research textbooks (for example Malhotra) do not really cover the sort of tables we use in market research. The main reason being that there is almost no academic justification for the way we market researchers use tables. We tend to use data that ought not be in tables, frequently use the wrong types of statistical tests, and our tendency to cross everything by everything is more like a fishing expedition that a scientific evaluation of hypotheses.
However, whatever the rights and wrongs of the issue, tables are probably the most widely used tool in commercial market research. A few years ago, I wrote some notes on how to use market research tables and I currently updating my notes with the intention of publishing them as a book or at least as an eBook.
I have reached the first draft stage and would really appreciate some feedback. In particular I am looking for feedback from:
People who are unsure how to use tables – do these notes help? What else would you like to know?
People who use tables regularly – what have I missed? What is wrong or inadequately correct?
People who supply tables – what have I missed? What is wrong or inadequately correct?
You can download a copy of the current PDF by clicking here.
You can either supply your input directly as comments to this post, or you can send them to me (the address is in the PDF).
Many thanks
Ray