Are you up to speed with mobile research? Probably Not!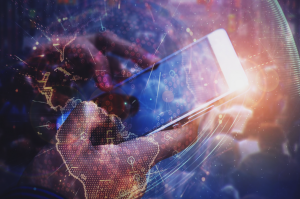 I hear lots of people saying they are doing mobile research properly, but when I look at what many of them are doing, it falls well short of what I think is acceptable, and incredibly short of what we should be achieving with mobile market research.
The Good News
In the GRIT study we see some evidence of good news. One of the questions asked late in 2016 asked about which techniques were in use for market research. Key mobile-related answers included:
Mobile Surveys 74%
Mobile Qualitative 44%
Mobile Ethnography 34%
Indeed, the values for Mobile Surveys have been so high that this year's GRIT survey asks about Mobile First Surveys.
The Bad News
There are three key elements to the bad news:
Most online surveys are not optimized for mobile (see the chart below from Research Now).
Many clients and researchers do not seem to be aware of the lack of representation they are creating by not fully embracing mobile.
The additional benefits of mobile research are only being accessed by a tiny proportion of projects – because research has become stuck in a PC First mentality.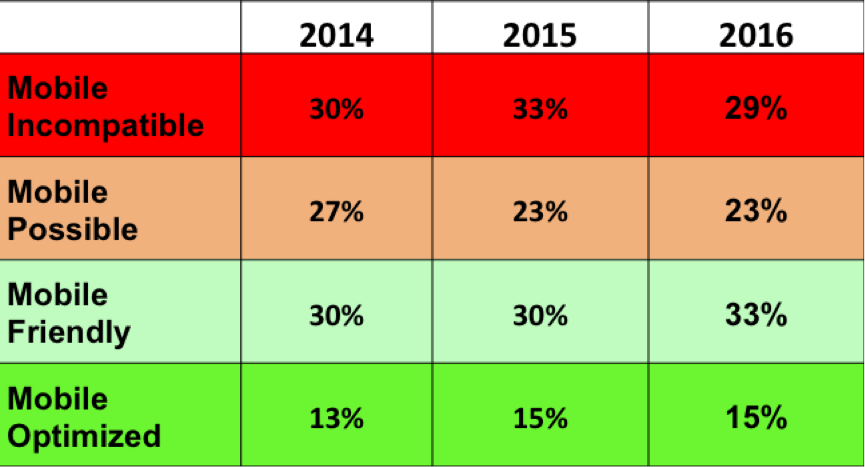 Data from Research Now (Global Figures), this chart was shown by Sue York at AMSRS and ESRA 2017.
Fewer than 50% of surveys sent to Research Now by market researchers are Mobile Friendly or better, and the position has not really improved over the last few years.
What Percentage of Surveys Should be Mobile Friendly or Better?
In a recent LinkedIn discussion a number of market researchers, some of them leaders in our field, expressed their views, concerns and recommendations. The general view was that everything that could be mobile friendly or better should be, but that some things could not be mobile friendly.
However, there was a big difference in what people thought could be mobile friendly. Some contributors reserved the PC-only category for things requiring larger devices, such as virtual reality shopping – something which is a niche in market research. But others were willing to include tracking studies, anything with large grids, or where long surveys were needed. These sorts of projects are a mainstay of market research and help explain why so many mobile unfriendly surveys are sent to the likes of Research Now.
Many of the people advocating using PC-only surveys did not take into account the extra steps and costs required if they want to make their sample representative. In most countries, excluding mobile participants makes your study unrepresentative. You can mask the appearance of this by quota sampling by age, gender, education, income etc – but it does not address the problem (it just makes the problem harder to spot). You can recruit under 25-year olds who are willing to do a boring online survey for a couple of dollars, and their demographics will look right – but they are not going to be typical of those who demand to use their mobile – and who are believed to be the majority.
The alternative view is that we need to scrap most methods that are not suitable for mobile, for example: long surveys, long answer lists, long questions, long scales, ranking questions, large grids. Moving towards customer-centric approaches such as focused questions, longitudinal analysis, choosing instead of ranking, 2 or 3-point scales. If we insist on backward consistency, we will be asking our questions to an every diminishing pool or professional respondents, many of whom will only keep a computer so they earn money doing surveys.
When we do have needs that require computers, such as large screen store recreations, we need to create panels that are representative, which will mean supplying devices to people who might not have them and providing higher incentives to make it attractive to millennials and others to turn to a computer to take our studies.
Learn How to Adapt to Mobile Market Research
NewMR have gathered eight great presentations on mobile market research for two webinars on 18 October. NewMR webinars are free and you can access the slides and recordings afterwards.
The presentations in the two webinars are:
Session 1, 10am London (5pm Singapore, 5am New York) – click here to register
Sue York, NewMR, Re-envisioning Research with Mobile First
Miguel Ramos, Confirmit, Single Survey Design for Online and Offline Research
Matthew Gibbs, Painted Dog Research, A New Reality: AR and VR in Research
Noriko Kishida & Tomoaki Murakami, Cross Marketing & Macromill, The online survey quality guideline by JMRA
Session 2, 10am New York (3pm London, 10pm Singapore) – click here to register
Frances Barlas, GfK, Making Grid Questions Mobile Friendly – An Impossible Dream?
Edward Appleton, Happy Thinking People, Adapting #Mobile to Social Media Language
John Whittle, Dub, What are the true unmet needs of qualitative researchers in 2017?
Dan Fleetwood, QuestionPro, Unleash Your Community: The Power of a Communities Mobile App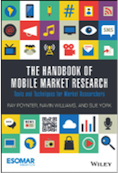 The Handbook of Mobile Market ResearchIf you'd like to read more about mobile market research, you could try The Handbook of Mobile Mobile Market Research, published by Wiley, and written by Ray Poynter, Navin Williams & Sue York. The book is available in both print and e-book formats. Check it out at Wilely by clicking here.