Book Review: Stephen Rappaport's The Digital Metrics Field Guide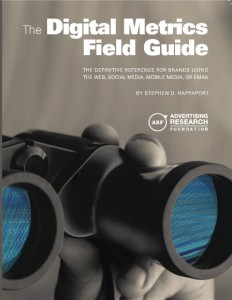 One of my favourite social media/listening books is Stephen Rappaport's Listen First!, so I was delighted when his new book 'The Digital Metrics Field Guide' was announced, and even more delighted to get a copy to review.
The book has been produced and published by the ARF and you can download an interactive PDF from this link on the ARF site. The Field Guide is free for ARF members and $29.95 for non-members.
To produce the book Stephen reduced a list of about 350 metrics to 197 and backed these up by referring to almost 150 studies, which illustrates the claim that online is the most measurable medium. The book covers four digital channels: email, mobile, social, and the web, and produces a really easy to use reference for anybody interested in the area.
To make things easier Stephen has organised the information in three ways, Alphabetical, Category, and Marketing Stage – to deal with different tastes and preferences.
12 Fields per Metric
The book is organised in terms of 12 fields per metric, including: where it fits in Paid/Owned/Earned, its category, a definition, and the sorts of questions it answers. The use of a standardised format makes it much quicker for the user to find and locate a specific piece of information.
Examples of metrics covered include:
Average time spent on page – including issues such as tabbed browsing and download time.
Brand Lift – Did exposure to the advertising impact brand lift measurement?
Conversation – How many conversations are people having about the brand?
Direct Traffic Visitors – how many people came to the site directly?
Who should buy this book?
I think anybody who, over the next year or so, needs to check on the meaning, use, or definition of more than three or four of the digital metrics should buy a copy of the book. If you only need to refer to one or two, you could simply Google them, find some links, read some articles and come to a view. But, if you want a handy, well-researched, well laid out reference – this is the book for you.
Note, you will not want to necessarily sit down and read this book cover to cover, it is much more of a reference than a good read (but see next note on the essays).
Viewpoints/Essays
The book finishes with a series of 12 essays and viewpoints, from people such as Gunnard Johnson from Google and David Rabjohns from MotiveQuest. Unlike the rest of the book, these should be read as opposed to referred to. Whilst I don't agree with all the points made in the essays, they are valid and interesting points, and ones that anybody engaged in the medium should be familiar with.
Timely publication
For me the publication of Stephen's book is very timely as I am working on part of the IPASocialWorks project, looking at a guide to 'measuring not counting' in social media. The focus of our work is much more about the strategy and best practices of measuring social phenomena, but Stephen's book provides a great reference to the variety of metrics available.