Council Notes, 18-19 November 2019 – Amsterdam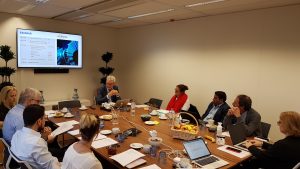 Posted by Ray Poynter, 26 November 2019
---
The last face-to-face ESOMAR Council meeting of the year was held at the ESOMAR offices in Amsterdam, 18 and 19 November, here is my regular feedback.
The meeting was attended by President Joaquim Bretcha, Vice-President Kristin Luck, Treasurer Anne-Sophie Damelincourt, Nikki Lavoie, Nijat Mammadbayli, Alain Mizrahi, Umesh Kumar, Lucy Davison, Finn Raben (Director General), Marie-Agnès Mourot de Lathyle (Chief Finance and Operating Officer), and me. Unfortunately, BV Pradeep was unable to attend.
Finance Report
The key issue revealed by the report is that each year it gets harder to increase revenue. And, of course, revenue determines what services can be offered. While events bring in a limited amount of revenue each year, a renewed focus on the link between events and attracting/securing additional membership will be a priority next year. Here is a link that explains ESOMAR membership and why you should be a member. The emphasis of ESOMAR communications is going to centre on our membership and ensuring that we create and deliver value.
One interesting debate is whether the concept of a membership organisation is becoming less relevant. This is a big topic and while Council are keen to discuss this further, the next step will be to collect a wide range of ideas and thoughts on this topic before discussing it further.
We are moving from an annual statement of membership to a system based on a rolling membership count. This change will mean that there will be a one-off drop in what the membership figures look like – but this effect will disappear as we move forward. We currently have about 5,500 paid up members. Another change in the nature of membership is the growing percentage who are corporate (rather than individual members). Currently, about 50% of ESOMAR members are corporate, in 2020 we expect the majority to be corporate.
Events
ESOMAR's high profile events (e.g. Congress, APAC, LatAm etc) are well known and are attended by approximately 2000 people a year. But our local events, often organised by the National Representative, reach a much larger audience. In 2019 they reached over 11,000 people, via 66 events so far, with another 12 planned by the end of the year. This is a large increase on last year and we are very grateful to the Reps for all their hard work.
The feedback from our recent Fusion event in Madrid presents an interesting problem. The people who attended in Madrid loved it, the viewing figures from ESOMAR TV were over 700, but the attendance at 200 was less than we had hoped. We need to find out why an event that is so popular with attendees, and which is widely viewed via ESOMAR TV, does not attract a larger audience. Expect more news on this soon, but if you have an opinion, feel free to add a comment below.
Legal and Governance
In many ways, the least visible aspect of ESOMAR is its most important. The ESOMAR Government Affairs team lobbies lawmakers and regulators to protect the market research ecosystem, and they also provide a wide range of services to companies that are seeking to be compliant with laws such as GDPR and the California Privacy Act.
One piece of good news is that the lobbying we have been involved with has meant that the new Copyright law protects market research. In particular, the EU had intended to force social media researchers to gain permission for every piece of text they accessed, this is no longer the case. The latest battleground for legislation is the new law on e-Privacy. Although the process is not completed there is some good news. For example, we appear likely to secure derogations for audience measurement and for CATI (the EU had suggested defining CATI as being the same as telephone marketing).
The Plan, Strategy and Budget for 2020 and beyond
The next big decision for ESOMAR is to set the budget for 2020 and the business plan for 2020-2022, in the context of our ongoing strategic plan. I will share a separate blog on the strategic plan shortly. This will be discussed further at our December meeting (which will be a remote/ web-based meeting).
North America
We received an update from Reg Baker, who leads our North American team. There will be more events in 2020 and ESOMAR Congress will be in Toronto in September next year. ESOMAR's relationship with the new Canadian association CRIC continues to develop.
Feedback from the Reps
The reps are the National ESOMAR Representatives, the people who represent ESOMAR in the local markets. Lucy Davison and members of the ESOMAR team have spent the last year working with the reps to help them understand their roles and to help get them the resources they need. A new newsletter for reps has just launched. The next step in Lucy's plan is to create a handbook and toolbox for the reps.
Diversity
Nikki Lavoie and Nijat Mammadbayli have been leading a member/officer group working on the topic of diversity and had some good progress to report. The first good news is that the ESOMAR YES Website (ESOMAR for people under 30) is back up and running, check it out at https://young.esomar.org/
ESOMAR has an explicit policy about behaviour in our Terms and Conditions, "ESOMAR policy on (sexual) harassment, aggression and discrimination". This section explains that "ESOMAR has a zero-tolerance policy on any form of harassment, discrimination and aggression." The document then outlines the sorts of behaviour that are unacceptable and how people can report such behaviour. If you ever encounter any form of unacceptable behaviour, please report it in confidence to HRConfidential@ESOMAR.org.
Canvassing and Elections
2020 is an election year for ESOMAR. So, if you would be interested in standing for election to the ESOMAR Council, start thinking about it now. At the Council meeting we amended a couple of the rules relating to the elections. The first is that canvassing during the election has been banned in the past, this ban has been removed. The second new rule is that no ESOMAR email address or ESOMAR list can be used to campaign (for example the Council Members or ESOMAR Reps won't be able to send out a mailing using their ESOMAR accounts asking for votes for a specific candidate or group of candidates) – people will still be able to contact people via MyESOMAR on a one-to-one basis.