Meeting of ESOMAR Council 1 February 2021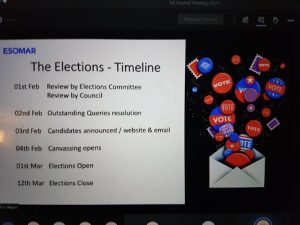 Posted by Ray Poynter, 2 February 2021
---
Meeting of ESOMAR Council 1 February 2021 (Via Microsoft Teams)
Present
Council Members: President Joaquim Bretcha, Kristin Luck, Nikki Lavoie, Lucy Davison, Anne-Sophie Damelincourt, Alain Mizrahi, Niels Schillewaert, BV Pradeep, Nijat Mammadbayli , Umesh Kumar and me.
ESOMAR Officers/Staff: Finn Raben (Director General) and Marie-Agnès Mourot de Lathyle (Chief Finance and Operating Officer), Angela Canin, Felix Chandra, Kim Souter-Umans, Nordin Ahyourd, Rhiannon Bryant & Marcel Dekker.
Apologies
There was 100% attendance.
Finance and Membership
The Council reviewed the results for 2020. Our turnover is well down on previous years, about 30% lower (despite a wide range of measures) because of COVID. The decline in revenue is almost entirely due to not being able to hold face-to-face conferences and Congress. Council noted the considerable contribution that ESOMAR had received from the Dutch Government – a consequence of ESOMAR being headquartered in Amsterdam.
Council reviewed the 2021 projected budget – which is also based on a lower revenue level. If the COVID situation eases – the picture may improve – but it is prudent to assume that problems continue.
Membership and Directory
We received feedback on the membership survey. Council members are going to review it this week and will follow up afterwards. The membership figures for 2020 were very strong because most people renewed before COVID hit – which means that 2021 is likely to be more of a challenge.
The Managers' Reports
Felix Chandra reported on the R&D and Tech Support – the main project is the move to Salesforce – which should help to provide a more tailored and engaging service. There are lots of investigations into facilitating virtual events and virtual communities.
Marie-Agnès Mourot de Lathyle reported on the Representatives. 62% of Reps reached their 2020 targets for activities. One example of an innovation is that China now has a WeChat group with over 100 members.
Angela Canin reported on the commercial side of ESOMAR (the companies who buy advertising and who sponsor events), focusing on Digital. At the moment 2021 is expected to be entirely Digital. The core idea is that ESOMAR should be a partner with its clients, not just a platform.
Kim Smouter-Umans reported on Government Affairs and Professional Standards. Following a successful celebration of Privacy Day on 28th January, key tasks include more GDPR Code work, AI initiatives, and monitoring new legislation in the USA, EU, India, Brazil and Nigeria. ESOMAR has been invited to take part in the proposed B20 (a business version of the G20).
Kim Smouter-Umans also reported on Marketing and Communications. We have boosted our social media footprint and results. The focus of marketing and communications is to retain members, recruit new members, and attract sponsors for our various channels.
Rhiannon Bryant reported on events and their content. Assuming a fully digital approach this year, ESOMAR is planning to hold Four flagship advents in the year, one every three months. Six hours of content, two hours for APAC, two hours for EU & NA, two hours for LatAm (in Spanish & Portuguese). Call for speakers for all four are open (but the first one closes on 5 Feb). In addition to Local events, there will also be a Spotlight Series focusing on existing content. The Virtual Academy now has a single location and a single paying method – currently there are six on-demand training courses and more are on the way. For full details of the calendar, check out: https://www.esomar.org/events
The ESOMAR Council Elections
Finn updated the Council on the elections and the candidates – which will be publicised as soon as the credentials have been verified. I can't tell you who the candidates are (that's the rules), but I can tell you there are great candidates for Council, Vice President and President.