Jan Hofmeyr challenges the future of market research at MRMW London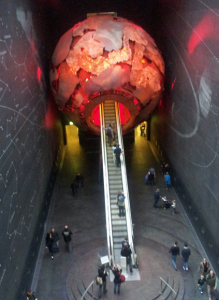 Last week, at the MRMW Conference in London, the future of market research as we know it was challenged by Jan Hofmeyr. Although there were many informative and interesting presentations, Jan was that the only person who was talking about a very different way of doing business.
In writing this post I am working from memory, so apologies if I misrepresent anything. The presentation in London appeared to be a continuation of a presentation that Jan made last year in Amsterdam, at the ESOMAR 3D Conference. A continuation in the sense that he had moved his thinking on, and an extension, in that he now appears to be offering a solution to some of the world's largest agencies and clients.
The main points
Jan Hofmeyr's main points were:
The existing model of market research, in particular the large trackers, is broken. It is too slow, too expensive, and not sufficiently useful. Not many people would argue with this point of view.
The best device, for collecting tracking interviews is the mobile phone. Jan's key point is that nearly everybody has a phone and they have it with them almost all the time. And, by mobile phone, he means both feature phones and smartphone.
The core of his suggested data collection should be text based and last about 120 seconds. It should be text based because more than half the world is still using a feature phone, and it can be 120 seconds because it is going to focus on just 3 key products per person (the three most relevant to each person). And, it needs to be 120 seconds to make it affordable and to reach enough people.
Social media monitoring should be added to the tracking mix to make the information richer.
Predictive analytics should be used to look at the data to predict what is likely to happen next – rather than reporting what did happen weeks or months ago.
Artificial Intelligence or Expert Systems should be used to analyse the data, to produce reports that have not been written by people and which are automatically translated into the client's preferred languages.
The key benefits
The research will be much cheaper, more insightful, predictive, and faster.
The implications for the MR industry
The MR industry would need far fewer employees. These employees would mostly be experts, salesmen, and accountants.
Presumably, the sort of process Jan is talking about would not affect the small ad hoc projects, especially the qual projects nearly so much. What he is mostly talking about are the big projects; the brand, ad, and customer satisfaction trackers, the places where clients spend most of their money, and where most market researchers are employed.
However, if the big stuff were to change to the extent that Jan is forecasting, then there would surely be implications for other types of research too?
The reaction in the room?
Most people in the room showed no reaction to Jan saying they may not have a job within a year or two. Did they not believe him, not understand him, or not really listen?
My initial reaction was to focus on the bits of his plan that, as described, do not seem possible with current technologies. However, I do accept his central points about a) the need for change, and b) the possibility for change.
My reservations
My key reservations were, that on the evidence presented, I do not feel that the following items will work as well, or as accurately, as he intimated:
Collection of emotional data about brands, from short surveys or from social media.
Predicting brand movements. Jan seemed to be suggesting he could predict the score a brand would get in the future. I think that predicting a cloud of possible values is more realistic (a point covered by both Nate Silver and Nassim Nicholas Talib in their books The Signal and the Noise and The Black Swan).
The ability to create expert systems that could automatically produce non-trivial reports.
The ability to automate the tailoring of reports to different clients and languages.
What's next?
From what I hear from the US and from Europe, Jan Hofmeyr has some very interested major clients/potential clients. So, some people are taking it very seriously. Perhaps some of the wackier elements of his presentation are not part of what he currently plans to deliver? Perhaps the core of what he is suggesting is more limited and more practical?
Although I have some major reservations about what Jan Hofmeyr presented, I suspect he is closer to the truth than the majority of the room who seemed to believe that the MR industry in two and five years will be much like it is today.