Market Research Knowledge Benchmarking Study 2017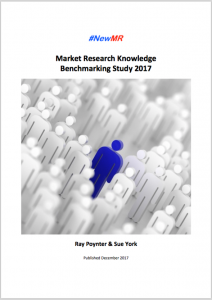 In November 2017 Ray Poynter and Sue York conducted a study into Market Research Knowlege and produced a report. This post reproduces the Executive Summary and the start of the main section. At the bottom of this post, we will tell you how you can download the whole report.
---
Executive Summary
This report looks at the state of market research knowledge and the factors associated with higher levels of knowledge. The authors believe that skills are going to be a key driver of the future success the market research and insights profession. The study supports our view that there are specific initiatives (such as attending webinars) that are associated with higher knowledge levels.
This report covers a study conducted globally (in English and Japanese) in November 2017, with 730 market researchers and insight professionals.
Key Findings
People differ in terms of how many market research terms they are familiar with (i.e. able to explain to somebody else). This is not surprising, but it reminds us that when data is presented or reported there will be variations in the knowledge levels of the audience.
Nearly 40% of this sample did not attend a single training session or workshop in 2017. The authors believe this is a real threat to the future of market research.
The data support the authors' view that professional development activities increase knowledge levels, which we believe has an impact on the type, quantity, and quality of work that can be undertaken.
Our key professional development recommendations are that researchers and insight professionals should as a minimum:
Read at least one relevant article or blog post a month.
Read at least two business/research/insight related books per year.
Take part in at least two training sessions or workshops per year.
Listen to at least two webinars (either live or via recordings) per year.
These should be seen as a minimum, higher levels of enrichment are associated with higher levels of knowledge – but these minima represent a tipping point.
There are benefits in attending conferences, but the authors recognise that this will not be possible for every company or individual.
Next Steps
Whilst this project has been useful, there are several ways it could have been improved, and we plan to do that in the next wave. These include:
Increasing the number of languages (this version was conducted in English and Japanese only).
Working with a wider range of bodies and organisations to reach deeper into the research and insights industry.
Improving the survey, whilst maintaining its short length.
If you would like to be involved in the next wave (2018), please contact admin@NewMR.org.
---
Introduction
This study was conducted via an online questionnaire to create a reference point, or benchmark, for the current state of knowledge of people engaged in the market research and insights profession. The key tool we used for this purpose was a list of nine research-related terms. The survey asked people to indicate which they were familiar with (i.e. they could explain to somebody else). The results for the total sample are shown in the chart below.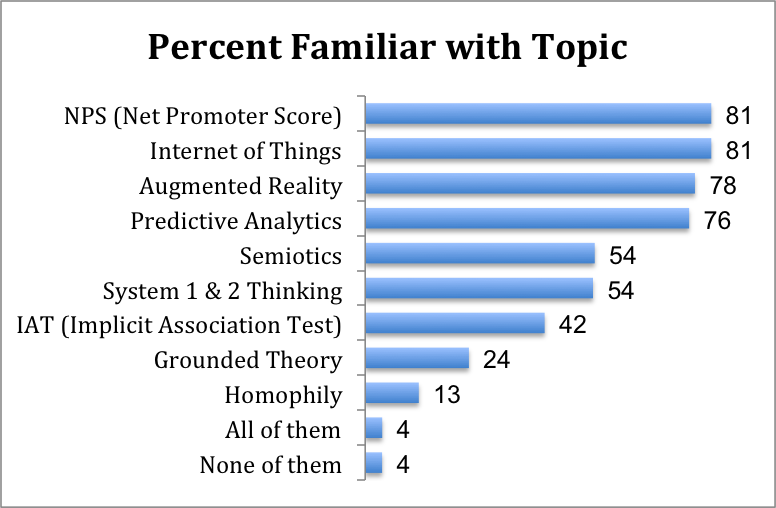 The top four topics were widely understood – but of these four, only NPS is very specifically a market research term. Semiotics and System 1 & 2 thinking are familiar to about half of the participants. The bottom three terms are much less known. It is worth noting that Homophily is also not a specific market research term. Just 4% of the sample knew all of these nine, and 4% knew none of them.
In order make the data more accessible, a 'Number Known' score was calculated, where people who were familiar with nine of the topics scored a nine, through to people who were only familiar with none of the topics scoring a zero. The distribution (showing actual counts) for these scores is shown below.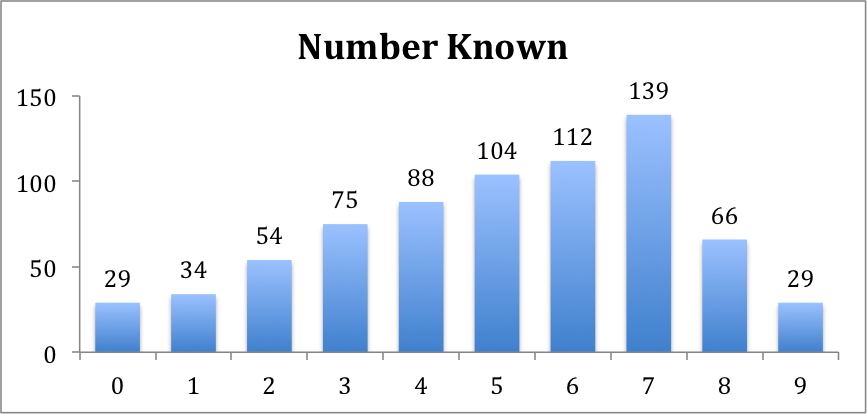 From this data, it can be seen that just under half (47%) are familiar with six or more of these techniques, and just over half (53%) are familiar with fewer than six of these phrases. Therefore, the participants have been divided into Mavens and Learners, with Mavens being those who are familiar with six or more topics.
---
Want to download the full report?
Access the report by clicking here or by clicking on the image below. But, if you are not already subscribed to the NewMR newsletter, please subscribe using the form below.