As a service to startups, NewMR has offered to post a single announcement from new startups to help people hear about them. You can read more about the scheme here. The post below was written by the company. NewMR does not endorse or recommend any of these New Face posts, not can we vouch for the accuracy.
---
Scoot Insights Delivers Agile, Effective, Interactive Insights
Clients value qualitative insights for the deeper understanding they can bring to business decisions. However, if insights can't be delivered quickly, their value diminishes in today's fast moving world. The founders of Scoot Insights recognize this need and have developed a process that moves clients from insights to action efficiently and effectively.
We work in partnership with our clients to inspire action and change within organizations to stay competitively distinctive and customer-driven by bringing them in contact with consumers in an agile and interactive manner.
Scoot Insights connects companies to their customers online and/or in-person for real-time actionable insights. We have developed a process that accelerates the delivery of qualitative research solutions and delivers real-time insights to answer core research questions within a week.
Scoot Sessions deliver the same depth of insights as traditional methods in less time thanks to rapid recruiting, dual moderation, real-time qualitative analytics and interactive debrief sessions.
We work with site-specific and online partners who can deliver participants within 48 hours
All-in-one-day fieldwork allows clients to hear first-hand from 20-35 consumers • Dual-moderators work in front and behind the mirror with a physical (or digital) Learning Wall to capture key themes and insights throughout the day
Scoot Sessions conclude with an interactive debrief; we work with the client team to merge consumer insights with their insider expertise and knowledge
This combined knowledge informs the Insights Into Action report deliverable
Our accelerated approach works across categories and can serve an array of client objectives. Clients benefiting from this approach typically have one core research question and ~25% incidence target audience. They have an appetite for team involvement and a need for accelerated results.
Scoot Sessions are ideal for:
Voice of the Customer
Brand Positioning
User Experience
Iterative Innovation
Concept/Product Testing
Communication Development
Packaging Development
White Space Exploration
Idea Generation
Competitor Understanding
Scoot Insights in based in San Francisco, CA. Our clients can be based locally, nationally or internationally. We offer site-specific research in major metropolitan areas and online research to capture national or international samples.
Option #1: Clients & participants are all live and in person at the same time at the same place
Option #2: Clients in their office, participants in their homes
Option #3: Clients & participants are all online at the same time
Contact Information:
www.scootinsights.com @scootinsights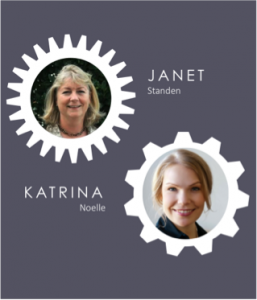 Co-Founder Bios:
Katrina Noelle, Katrina@ScootInsights.com
President, Know Research & Co-Founder, Scoot Insights Katrina has mastered the art of hybrid qual as principal of KNow Research. She has combined the depth of in-person feedback with the breadth of online and mobile research for clients in the retail, fashion, personal care, CPG, technology, and financial services over the past 14 years.
Janet Standen, Janet@ScootInsights.com
Director, JS Strategic Insights & Co-Founder, Scoot Insights Janet was a joint founder of New Solutions, London's largest strategy consultancy in the 90s. She made her way to the U.S. in 2000 and spent her last 15 years serving consumer insights to a wide range of clients. Janet's experience in both client-side and agency roles makes her a clear voice for each.