NewMR – Presenting & Reporting Study – 2021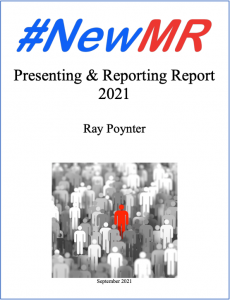 Posted by Ray Poynter, 14 September 2021
---
This NewMR study presents the results of two waves of research into the state of market research reports and reporting. The first wave was conducted in 2019 and the most recent wave 2021 (8 July to 20 August).
You can access and download a copy of the report by clicking here.
Our friends at Infotools have created an online system for accessing the data from the 2019 and 2021 waves. To find out how you can access the data to investigate it yourself send an email directly to Infotools (geoff@infotools.com) and they'll arrange the most appropriate access for your needs.
You can access the slides and recordings from the Presenting and Reports Webinar that accompanied this report by clicking here.