Pravin Shekar – Candidate for ESOMAR President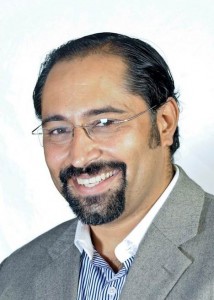 A recipient of American Marketing Association's "Emerging Leader in Marketing Research" 4Under40 Award, I have close to two decades experience in the world of research.
In my MR journey, I have traversed many roles: Field interviewer, Project manager, KPO/Analytics to Research & Insights! An entrepreneur since 1999, I have steered companies to multi-million dollar growth.
I bring energy, positivity and a CAN DO approach to all initiatives that I am involved with.
See more at www.pravinshekar.com & LinkedIn provide additional information.
Below is my personal statement for this election as well as my 3 point agenda.
PERSONAL STATEMENT
As an ESOMAR Council member/Treasurer and Representative, I have been very active in promoting the cause of research and ESOMAR.
As the President, I will channel my entrepreneurial energy for the following key points:
SERVE THE MEMBERS: Increased engagement, focused custom events, client round-tables and organized meet-up/networking sessions
STRENGTHEN OUR PROFESSION: Expand the horizons of ESOMAR and bring all relevant stakeholders together. Work with like-minded partners globally to lobby, protect the profession from restrictive legislations and advancing the case of marketing research.
SECURE THE FUTURE: Making "Youth" the center-stage of initiatives: Focus on young researchers/students and promote MR as a career of choice. Being more inclusive (Geo, New-tech, Innovations)
"Market" Marketing research: An imperative need!
A CAN-DO entrepreneurial DRIVE is the need of the hour. To make ESOMAR stronger. To propagate the word of research.
You can see a 2 minute video statement from me here.
I look forward to your support for my candidacy to be the next President of ESOMAR (and the first from Asia!).
ACTIVITIES ON BEHALF OF ESOMAR
As an ESOMAR member, India Representative, Treasurer and Council member, I have been a very active promoter of research, standards and a global-local connect. I continue to organize conferences, events (client/agency-side) and deliver lectures aimed at researchers as well as students.
My contributions include:
ESOMAR Council-Member & Treasurer 2013-14, 2011-12
2013: Cycling 1000 Kilometers in 8 days to raise funds and awareness for the ESOMAR Foundation
2014 Dec*: Running a 50K Ultra for the Foundation
Programme Committee: Qualitative 2013, APAC 2011, Congress 2011
Council responsibility: Introduced recognition/awards for Country Representatives
ESOMAR Project Team member: Guidelines on Research via mobiles| Professional Standards Committee Overseer
Organized seven national ESOMAR events (2009-2014)
Speaker: ESOMAR Congress 2010, Research-Idol Congress2009, Leisure 2006
Panel Discussion: APAC2013, APAC2010, APAC2008, Qualitative2007
Promoting the cause of ESOMAR and MR at educational institutions/associations across APAC
OTHER ACTIVITIES
Invited speaker/workshop-leader at various national association conferences: TMRE (USA), AMSRS (Australia), MRSS (Singapore), MRSI (India), TMRS (Thailand), BaQMar (Belgium).
Management Committee: Market Research Society of India(2013-15)
MAKE IT COUNT!
VOTE!
FOR ESOMAR!
---
To see other notes on the ESOMAR elections see here.