Six Tips for Creating Integrated Insight – from the No Nonsense Tour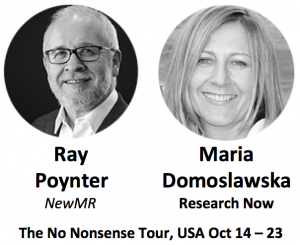 Everybody is talking about 'insight instead of data' and 'storytelling instead of tables', but how do we find and communicate the insight that everybody is talking about? These six tips on how to find and communicate the insight are drawn from the No Nonsense Workshop that we (Ray Poynter and Maria Domoslawska) will be running in New York on October 15 – as part of the North American No Nonsense Tour, click here to read more about the tour.
Creating the right question is half way to solving the problem. Before trying to provide an answer you really need to understand what is needed. This typically means talking to people; asking them questions like "What would success look like?" and "What actions would you like to take once you have this answer?"
Establish what is known and what is available. It is likely there are multiple sources of information including market research, reports, transactional data, corporate knowledge, social media and much more. You need to establish what is available and the nature of that data – for example its reliability, its granularity, and its coverage (in terms of time, place, brands etc).
Unless you are a gifted and intuitive finder of messages (who is working alone) use a framework approach. A framework is a systematic way of teaching and collaborating in the finding and communicating of messages hidden within information. There are many possible choices, choose one and inculcate it throughout the system, ideally including your suppliers in that process.
Find the big picture before you start looking at differences and nuances. Too many modern analysts start by looking for differences without taking the time to understand what the majority think, what are the main drivers, and what is it that the sub-groups are different from.
When finding and crafting the story, think about what it is you want the recipient of the study to feel and do. When you have a clear idea about you want them to know it will help you frame actionable recommendations.
Don't tell the recipient everything you know, tell them what they need to know to achieve their aims. Other things you discover can be communicated at other times and/or through other channels – but in terms of the main story, less is usually more, especially when the less is something they can actually act on it.
If you are in North America and would like to learn more about Mobile Market Research, Social Media Research, or Creating Integrated Insights, join one of our workshops in October. Click here to find out more about them and the other No Nonsense workshops.