Social Media Research Reveals Market Research Concerns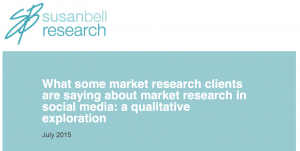 This is the second post that relates to the GreenBook/NewMR collaborative evaluation of social media research. This post relates to analysis conducted by Susan Bell Research. At the bottom of this post is a link to the other posts in the series. Click here to access the full report from Susan Bell Research.
A Qualitative Approach
Sue Bell adopted a qualitative approach to investigating what market research clients were revealing about their relationship with market research suppliers in social media. Qualitative research seemed appropriate because the available volume of market research clients is relatively small (making quantification problematic) and because Sue wanted to dig deeper than a comparison of numbers would allow.
The analysis is based on 10 users of research, taking comments that have been published in publicly accessible places to minimise ethical and privacy issues. People not familiar with qualitative research may well be surprised at the depth of analysis that can be conducted on a small group, when conducted by a suitably experienced qualitative researcher.
To inform not replace
In terms of what clients want from agencies the research suggested a complex picture of slightly contradictory desires. Clients want research to help them make better decisions, not to make decisions for them. However, clients see themselves as being in charge, but often do not seem able to get what they need and are requesting.
Action points
The research includes several action points for market research suppliers, including the need to avoid being too narrow and too insipid!
Read the full Report
Read the full report from Susan Bell Research by clicking here.
The Social Media Collaboration Project
Read other elements of the project by clicking on the links below:
Once all of the reports are published Lenny Murphy and Ray Poynter will create an overarching review of the project, looking at the many ways social media can be used to enhance research.