Stepping Outside our Comfort Zone – re:publica, Berlin, 2016
Guest Post by Daniel Fazekas from Bakamo.Social
---
Around this time last year Ray Poynter invited researchers to a "collaborative review of social media research". The idea was to showcase social media research to the MRX community..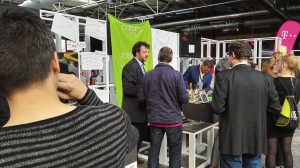 The findings across all the submitted studies pointed in one direction: we as an industry are failing to make a difference. We are introverts, who fancy to talk to ourselves rather than the world around us. The conclusion was: this needs to change, if we do not want other industries – consultants, or a silicon valley algorithm to take our piece of the pie.
One tangible recommendation Ray highlighted was to attend conferences and events outside our comfort zone. So we did – and want to share our experience.
The conference:
re:publica is digital culture conference – an incredible event with about 8000 people attending for three days in an abandoned railway shed, bringing together people from marketing, journalism, politics, technology, artists, activists, students, start-up entrepreneurs and of course a Berlin-must: tons of hipsters. What connects them is a shared belief in the positive force of connectivity on society. Here's a link – have a look: https://re-publica.de/en
We took a booth and a staff of four. Located between a company selling caffeine enriched cookies and Bosch introducing its autonomous car – along with some robots doing 3D art. We did not know what to expect. And were stunned at the end of the first day – we must have had about 80 conversations in first few hours. A good chunk has real potential; But what was remarkable was how we changed: we were talking about how research can empower business – how the researcher's thinking adds value; How companies, government agencies, media organizations, tiny start-ups can use insights to be better at what they do.
Our chairman, Dan Foreman, said it best, "Every visitor at re:publica is a potential client of Bakamo's – they are all potential research buyers, as long as the proposition is pitched in the right way. We are relevant for our booth partners – the cookie company and Bosch; we are relevant for the big brands – Daimler, Google and so on; we are relevant for all the political and government agencies; we are relevant for the universities and media organisations. We are the only insight business here and, as such, we stand out"
We know that by posting this blog others will follow and we will no longer retain this exclusive position. But it is important for us to share this as part of our mission for helping the industry to stop being so inward looking and put our head above the parapet.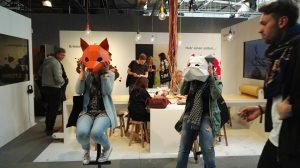 Conclusion:
Most people knew about research – but never ever thought that it could of value to them. We have a boring image – driven by perceptions of meaningless tables, and lots of data – our true value in making difference, telling the story, is not there.. YET! Let's change this.
For us a business and a team re:publica was a total win – we walked away with a lots of business opportunities, applicants for open positions, and maybe more importantly a reinvigorated belief of our team that what we do makes sense and changes lives.