Transforming Insight: the 42 secrets of successful corporate Insight teams
Guest blog by James Wycherley, Author of Transforming Insight: the 42 secrets of successful corporate Insight teams and CEO of the Insight Management Academy. Published 27 February 2021.
You can hear an Insight Interview Podcast with James and Ray Poynter by clicking here.
---
16 years ago, a group of 25 senior research and analysis leaders formed the Insight forum in London. We represented a diverse range of sectors, including major supermarkets, telecoms, utility providers and consumer packaged goods. I was there to represent Barclays, one of half a dozen multi-national financial services companies that took part.
Despite the diversity of sectors, what we all shared was a passion for using customer and market knowledge to solve business problems. And also a curiosity: between 2003-2005 many of our organisations had created their first Insight departments and the question on all our minds was, 'is this new thing called insight the same as market research? As customer analysis? As competitor intelligence?'
The principles established in those early forums have guided many corporate Insight leaders ever since, and the meetings provided us all with an external reference point as we sought to make Insight more effective in our organisations. The Insight forum itself was kept deliberately small – we decided that if we had more than 50 people in a room then it would feel like an anonymous conference. But it thrived on a sense of common purpose, open debate and personal connections, as well as on the ideas and examples put forward by its first leaders, Steve Wills and Sally Webb.
In recent years many of the best-known companies in the UK have taken part, including Tesco, Asda and Sainsbury's; eBay, John Lewis and M&S. All the major UK banks have participated – Barclays, HSBC, NatWest, Lloyds and Santander – as well as Aviva, Legal & General and Nationwide. We've had major consumer brands such as Nestle, Lucozade Ribena Suntory, Molson Coors, Warburtons, Marston's, Whitbread and McDonald's. And every form of transport from P&O Ferries to Highways England, Manchester trams and the London Underground. This variety has provided rich examples of how the key principles could be applied in multiple sectors, and in the ten years I represented Barclays, I usually found that the ideas from outside my sector were often the most illuminating.
Five years ago, I left the corporate world to work full time with the Insight Management Academy, the organisation that had grown up around the Insight forums. My mission was simple: to bottle the ethos and spirit of the forums and make the learning available to a far wider range of organisations; big and small, public sector and commercial, UK, North America, Europe and Asia. To that end we have launched a tiered membership structure, a full range of capability benchmarking, an extensive library of online learning, a second Insight forum in Manchester, and online training and support for our members.
But we've never had a book, and that's always felt like a big omission. I love reading, and many of my best ideas have come from reading books about completely different topics which, after reflection, I could see a way of applying to the work of an Insight team. But there's never been an IMA book, a one-stop reference for our members and a gateway for anyone who has the ambition to make Insight make a difference in their organisation.
The lockdowns of 2020 came as a shock to everyone, and Insight professionals were affected along with everyone else. We all had to adopt new ways of working, new data, new working habits, often accommodating the unique challenges of home-schooling. Either because they were furloughed, or because they were too busy, few market researchers and Insight analysts had the time for attending training courses. So there were fewer demands on the Insight Management Academy, and this suspension of normal reality gave me an opportunity to write the book that I'd had in my head for a couple of years.
Transforming Insight: the 42 secrets of successful corporate Insight teams begins with a bold statement: there has never been a better time to work in a corporate Insight team. I passionately believe that's true – we have better data, a better understanding of consumer decision-making, and more enlightened and customer centric corporate leadership than ever before. Moreover, the current pandemic and lockdowns have made it impossible for senior managers to ignore customer behaviour and consumer sentiment. And yet very few companies currently claim that they are Insight-driven organisations. There's a lot more research and analysis taking place and a lot more application of data to customer-level decisioning; but only 12 of the 82 senior Insight leaders we benchmarked in November and December last year claimed that all the really big decisions were being driven by Insight.
So the theme of Transforming Insight is that whilst Customer and Market Insight has the potential to transform the performance of any organisation, if we really want Insight to transform our companies, we first have to transform our Insight teams. The book is divided into five sections, each one containing short chapters that can be read in as little as five minutes. One Insight leader at a major building society is reading two chapters each night and making notes for how the ideas might be applied to her team. Another, at an international publisher, has set up a book club so that he and a colleague can compare notes on a new section each week.
The sections are:
Identifying value: which looks at the core purpose of an Insight team and the ways we can identify value for our organisation by generating new insights and developing customer knowledge.
Driving change: explores the principle that there is no point doing any research or analysis unless we then use it to drive change through communication and influence.
Leading Insight: challenges perceptions of the role of the Insight leader and the requirement for us to design and deliver a top-down plan for leading Insight strategy and people.
Optimising impact: examines the positioning of the Insight team within the organisation and the critical role played by our department's contribution to sustainable commercial success.
Moving forwards: suggests that the coronavirus pandemic has presented an unprecedented opportunity for Insight teams to accelerate their evolution and then maintain their momentum.
In pulling all these ideas together I hope that I've done justice to the discussions held at the Insight forums over the last 16 years. I hope that I've provided the IMA's members with a useful reference that they pick up whenever they want some inspiration. I hope that it offers hope, guidance and reassurance to all the other Heads of Insight, Research and Analysis who are working so hard to make Insight make a difference in their organisations, and yet who so often find that it's a difficult, indeed lonely, thing to do. It is relatively rare for an Insight leader to report to a director who has themselves worked in an Insight team, and I think we all need an external reference point and fresh perspectives from others who have experienced the same challenges.
I also hope that the book inspires others to progress in their careers, to join an Insight team if they work in another corporate department at the moment, or to progress within one if they are already working on research and analysis projects. I also hope that it shines a light on the world of corporate Insight for the talented researchers in agencies who work so hard to create great insights for their clients only to share the frustration of Insight teams when their ideas don't hit the right note or gain any traction.
16 years ago, I was quite new to the role of Head of Insight. I loved talking to my peers at the Insight forums and gaining from the experience of others who had found ways to make Insight more effective. I would have loved to have read a book that explained why the most successful corporate Insight teams had such influence on decisions and offered practical tips and simple frameworks that I could adopt or adapt for my organisation. So, whether you're the sort of person who likes reading a book from end to end in a week, or if you'd rather use the 5-point summaries on the last page of each chapter to inspire you at the start of a new day, I hope that this book fills a gap in the resources available to you, and that the ideas in Transforming Insight become as pivotal to your career as they have been to mine.
© James Wycherley, February 2021
Transforming Insight: the 42 secrets of successful corporate Insight teams is published by the Insight Management Academy and available from Amazon.co.uk
---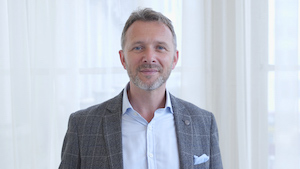 James Wycherley was Director of Customer Insight and Analytics at Barclays Bank from 2005 to 2015 when he became Chief Executive of the Insight Management Academy (IMA). An acknowledged expert on Insight leadership, strategy and communication, he is the author of over 35 IMA publications and a popular keynote speaker. He has provided thought leadership in the UK, Western Europe, USA, Canada, Australia, India and the Middle East, and over 20,000 Insight professionals worldwide receive his 5 Minute Insight emails every month.