What I learned from the ICG Question Time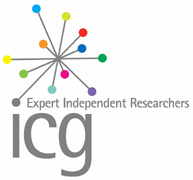 London, 14 November, 2013, the ICG (the Independent Consultants Group), held their fourth Question Time event, where five leading lights of the MR industry are invited to answer questions posed by ICG members and the audience. I had the honour to be the chair of the session, and to ask the five luminaries the questions.
The five panel members were (quoting their description on the ICG site):
Ken Parker, AQR Chairman; founder – Discovery Research; sports research expert and football fanatic
Becky Rowe, MD of ESRO; an award-winning researcher for NHS ethnography work
Paul Edwards , Chief Strategy Officer, Hall & Partners; vastly experienced industry leader and ad planner
Janet Kiddle, Founder: Steel Magnolia and long-time ICG member; ex MD of TRBI
Mike Barnes, Consultant; ex Head of Research, RBS
As ever the session was a social success with lots of networking and discussion, including a chance for me to hear about Dinko Svetopetic's success in promoting Insight Communities in Poland via his company MRevolution.
But, what I wanted to post here were my key takeaways from the session.
Big Data is the topic of the moment. However, the general view is that Big Data is making relatively slow progress and will initially have a much bigger impact on the large agencies than on the independents and consultants. Indeed, Big Data may even be an opportunity for independents in that they can provide help on understanding the "Why?" and helping shape the "So what?"
DIY is a threat to independents and consultants, but it is also an opportunity. When clients find they have bitten off more than they can chew, or when they get out of their depth, the independents and consultants are a great resource to help resolve issues.
One challenge for independents (and clients) is how to stay up-to-date with the latest approaches, tools, and technology. The view of the panel was that nobody can stay fully informed about everything. The key for independents is to develops strengths, not an ever wider offering, and to support this with networks.
Another threat to independents and consultants is competition from people supplying poor research, particular in the context of faster/cheaper research. The general response of the room and the panel was that independents should continue to stress the need for good research, that analysis requires experience and time, and to focus on the clients who are looking for something more than 'value' or bulk research. Ken Parker was also able to report back (with his AQR hat on) on the moves being made to create suitable accreditation schemes for qual research and for recruiters. The ICG is involved in this initiative, so keep your eyes on their website.
The hunt is clearly still on for a better way of presenting information. Becky Rowe made the case for hiring professional communicators/designers to improve the way we communicate in MR. Mike Brown, gave the client's perspective that presenters need to have done their homework and identified what a particular audience expects and needs – one size does not fit all.
In terms of key trends independents need to be aware of, the panel identified:

Online qual
DIY
Big Data
The need to combine asking questions (in qual and quant) with observational research
For me, one of the interesting nuggets was that over two-thirds of the room had delivered at least one 'old fashioned' written report (i.e. more than 10 pages of words), in the last year. To me this suggests that clients who are working with independents are looking for something different than the sort of 'fast food' they typically buy from the agencies.