My take on social media – Dr Nasir Khan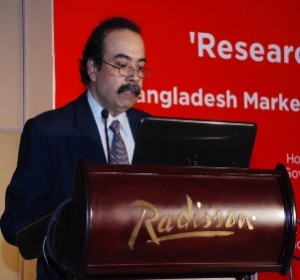 Guest post from Dr Nasir Khan, Executive Chairman, Somra Group, Bangladesh.
Click here to see a list of the other posts in this series.
---
Socializing in cyberspace, in all its forms and nuances, is truly borderless, global, and hugely beneficial for an array of known and unknown (till date) purposes. Most importantly, one doesn't necessarily need access to the internet in all cases. For instance, Facebook and Twitter have options for posting and engaging via SMS. So, in one way or the other, anybody anywhere in the world is welcome on board.
The key objective of "post, like, comment, share" – across major social media platforms – is to engage fellow humans, who could be family, friends, colleagues, current or prospective business partners, buyers of products and services, group of people sharing common interests or concerns…The list can go on until bots take over – my conscience tells me that socializing, despite all technological progress, must remain human (futurists please take note).
Coming to the point of how we can make the best use of social media in general, we need to draw a clear line between simply 'talking' (one-way) and conversing (both ways). If we fail to start a conversation, or do not participate in one, we would actually be advertising and selling ourselves (personal branding) or our products/services. Even if 'free', I have doubts about how many people are interested to pay any serious attention to one-way rants. In my humble opinion, a simple announcement should also have the necessary elements to spark engagement and conversation. If there's no conversation, the very purpose of social media (socializing) is lost.
No less important is the purposeful choice of platform. Facebook, Twitter, G+, Instagram, Foursquare, LinkedIn, Pinterest, Blogs, so on and so forth, are unique as well as common in many ways. We tend to use these media more due to the commonalities by cross-posting (makes life easy?). Is this practice doing any good? I have my doubts. In order for us to successfully achieve our personal or business objectives, we need to be selective in terms of platform as well as the materials we share.
Now, focusing on my own belief and practice – I am a human being first, market researcher second. As a human being, I use Facebook (personal account, not considering pages), Instagram and Foursquare as media for fun with friends and family. Google Plus? (I thought it would take off well, given the huge number of people owning a google account, but rumor mills are already churning out news of its imminent death). LinkedIn is meant for professional and business conversations, and Twitter is for what it is – chirp anything personal or business. Accordingly, I enjoy these two media as a research professional first. I see Pinterest as a virtual 'emporium' – "show your products to your target market". Unfortunately, MR cannot be showcased properly with a few pictures or infographics the way one can showcase bags, shoes, clothing, furniture, or even a country (for nation branding). Therefore, LinkedIn, Twitter, and specialized blogs are great places for MR.
Finally, what's the future of MR on social media? As sources of data, all social media will become more and more useful. As platforms for development of the MR profession or business? I have a feeling (sorry, if I am wrong) that most people in the MR industry are "too busy" to even 'like' a professional post, leave alone comment, share, engage self and others (except a few MR groups on LinkedIn). If the current trend prevails, the future of MR on social media is a huge question mark.
Would you like to share your take on social media via a blog post on NewMR? We are happy to review suggested posts, ideally about 300 to 600 words. Send you suggested copy to admin@thefutureplace.com.
---