No more surveys in 16 years?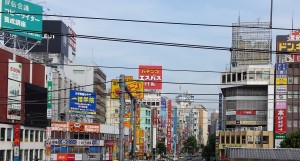 Back in March 2010, I caused quite a stir with a prediction, at the UK's MRS Conference, when I said that in 20 years we would not be conducting market research surveys. I followed my conference contribution with a more nuanced description of my prediction on my blog.
At the time the fuss was mostly from people rejecting my prediction. More recently there have been people saying the MR industry is too fixated on surveys, and my predictions are thought by some to be too cautious. So, here is my updated view on why I think we won't be conducting 'surveys' in 2034.
What did I say in 2010?
The first thing I did was clarify what I meant by market research surveys:
I was talking about questionnaires that lasted ten minutes or more.
I excluded large parts of social research; some parts of which I think will continue to use questionnaires.
Why no more surveys?
In essence there are three key reasons that I think surveys will disappear
The decline in response rates means that most survey research is being conducted with an ever smaller proportion of the population, who are taking very large numbers of surveys (in many cases several per week). This raises a growing number of concerns that the research is going to become increasingly unrepresentative.
There are a growing number of areas where researchers feel that survey responses are poor indicators of true feelings, beliefs, priorities, and intentions.
There are a growing number of options that can, in some cases, provide information that is faster, better, cheaper – or some combination of all three. Examples of these options include: passive data, big data, neuro-stuff, biometrics, micro-surveys, text processing of open-ended questions and comments, communities, and social media monitoring.
Surveys are the most important thing in market research!
There is a paradox, in market research, about surveys, and this paradox is highlighted by the following statements both being true:
The most important data collection method in market research is surveys (this is because over half of all research conducted, in terms of dollars spent) is conducted via surveys.
The most important change in market research data collection is the move away from surveys.
Because surveys are currently so important to market research there is a vast amount of work going on to improve them, so that they can continue to deliver value, even whilst their share of MR declines. The steps being taken to improve the efficiency and efficacy of surveys include:
Mobile surveys
Device agnostic surveys
Chunking the survey into modules
Implicit association
Eye-tracking
Gamification
Behavioural economics
Biometrics
In the moment research
Plus a vast rage of initiatives to merge other data, such as passive data, with surveys.
How quickly will surveys disappear?
When assessing how quickly something will disappear we need to assess where it is now and how quickly it could change.
It is hard to know exactly how many surveys are being conducted, especially with the growth of DIY options. So, as a proxy I have taken ESOMAR's figures on market research spend.
The table below shows the proportion of global, total market research spend that is allocated to: Quant via surveys, Quant via other routes (e.g. people meters, traffic, passive data etc), Qual, and Other (including secondary data, consultancy and some proportion of communities).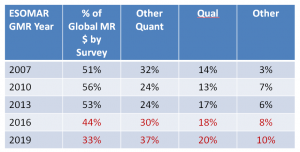 The first three rows show the data reported in the ESOMAR Global Market Research reports. Each year reflects the previous year's data. The data show that surveys grew as a proportion of research from 2007 to 2010. This was despite a reduction in the cost of surveys as F2F and CATI moved to online. From 2010 to 2013 there was indeed a drop in the proportion of all research spend that was devoted to surveys. However, given the falling cost of surveys and the continued growth of DIY, it is likely that the absolute number of surveys may have grown from 2010 to 2013.
Other quant, which covers many of the things that we think will replace surveys, fell from 2007 to 2010. In many cases this was because passive collection techniques became much cheaper. For example the shift from expensive services to Google Analytics.
The numbers in red are my guess as to what will happen over the next few years. My guess best on 35 years in the industry, talking to the key players, and applying what I see around me.
I think surveys could lose 9 percentage points in 3 years – which is a massive change. Does anybody seriously think it will be much faster? If surveys lose 9 percentage points they will fall below 50% of all research, but still be the largest single method.
I am also forecasting that they will fall another 11 percentage points by 2019 – trends often accelerate – but again, does anybody really think it will be faster? If that forecast is true, by 2019 about one-third of paid for research will still be using surveys. Other quant will be bigger than surveys, but will not be a single approach; there will be many forms of non-survey research.
I also think that Other (which will increasingly mean communities and integrated approaches) and qual will both grow.
What do you think?
OK, I have nailed my flag to the mast, what do you think about this issue? Are my forecasts too high, about right, or too low?
Do you agree that the single most important thing about existing data collection methods is the survey process? And, that the most important change is the movement away from surveys?
---