Social Media Research and the Trough of Disillusionment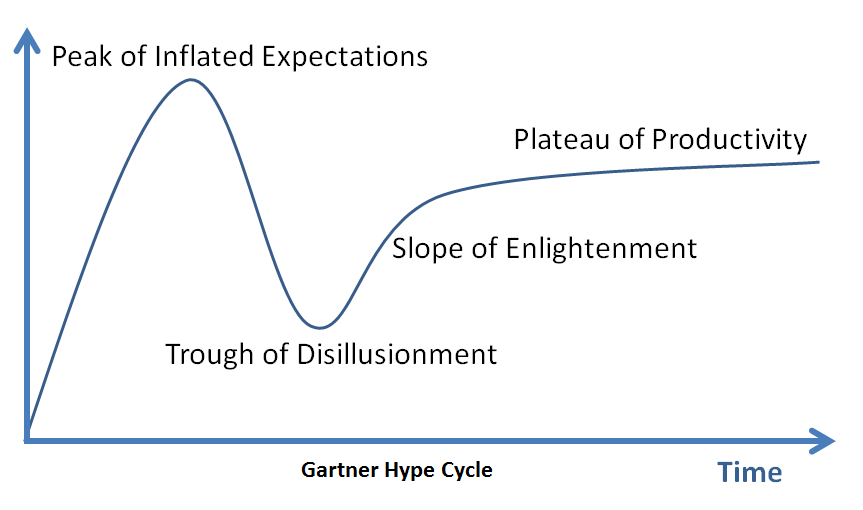 At the Festival of NewMR, Wednesday 5th December, I will be presenting a summary of where social media research is at the moment and where it is going next. As part of that presentation I will be exploring why I think social media research is heading into what Gartner have termed the Trough of Disillusionment. This post explores what I mean by this prediction.
The term social media research has two definitions, a broad one and a narrow one. The broad definition includes social media mining and listening, netnography, communities, smartphone ethnography, research into social media, and social media as a sample source. The narrow definition refers just to the seeking out and collection of large amounts of naturally occurring social media conversations and comments – this definition includes social media listening and mining. It is this narrow definition of social media research that I think is heading into the Trough of Disillusionment.
It should be noted that the Gartner Hype Cycle is a loose description of a repeatedly seen phenomenon – it is not a law and it is certainly not a specific mathematical formula. But it can help understand what often happens to new technologies.
Social media research's rise was spectacular, with a massive growth in new tools and companies offering a variety of methods to collect data. But, as well as new tools and new companies there was way too much hype. The claims about the share of voice that could be captured online was inflated, the ability to segment the comments by simple demographics (such as country, gender, and age) was massively over-stated, and the claims made for automated sentiment analysis verged on the ludicrous in some cases.
As I have noted in another blog, 2012 seems to have been the year that manual coding of open-ends made a come-back, to the disappointment of most of us. This has been matched by papers looking at combining social media research with 'old' research (to compensate for social media research's weaknesses), concerns about privacy, and a decline in the excitement over what can be found by passively listening to tweets, blogs, and status updates.
This decline in the expectations of social media research will reverse. We will get a better fix on what it can and can't do, prices will come down, and tools and algorithms will improve. But before that happens, there will be more disillusionment to come.
To hear the whole social media research update, which includes both the broad and narrow definitions of social media research, join me online at the Festival of NewMR, Wednesday 5th December – registering is free.