Listening to talk about Beacons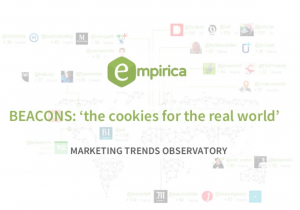 The social media research contribution from empirica takes a slightly different angle from most of the other reports in the GreenBook / NewMR collaborative review of the benefits of social media research. Rather than researching market research as a whole, it looks specifically at one technology, namely that of beacons. You can read the full empirica report by clicking here.
Beacons are widely tipped as being one of the key elements of marketing and market research over the next few years. Beacons are used to help locate a customer or research participant. The early beacons did this through a high frequency sound signal (high as in too high for humans to hear). The current leading example of a beacon is the iBeacon from Apple, which uses Bluetooth.
Empirca listened to the conversations in social about beacons and identified to broad locations for the discourse, marketing and technology. The empirica study focused on the marketing discussion and found the discourse to be overwhelmingly positive. The report goes on to list the sorts of comments made and the topic areas covered.
Empiraca went on to plot the interactions and potential influencers for the conversations about beacons. Not surprisingly there were relatively few market researchers in this list, which perhaps ties back to the point in several of the other reports that MR influence is too focused on MR and not enough on the wider world. Although, Ray Poynter did scrape onto the list, perhaps this is partly because I am based in the UK and the competition is less fierce here.
You can read the full empirica report by clicking here.
Read the other reports
Check out the other reports on this topic by clicking here.