MRMW Kuala Lumpur – Stephen Paton reports
This is a guest post by Stephen Paton who attended (and spoke at) the recent MRMW APAC conference in Kuala Lumpur.
---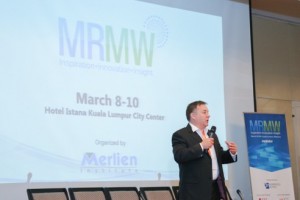 Wow that was quick!  It seems like the work year was just beginning and here we are with conferences under way across the globe.  For me, once again I started the year by attending the MRMW  (Market Research in the Mobile World) Asia Pacific event held this year at the Istana Hotel in Kuala Lumpur Malaysia on March 8-10.  I should also point out that unlike last year where I was a presenter only, this year I had a heavy involvement being invited to chair the conference, conduct a workshop (thanks Merlien Institute) as well as appear in the 'Great Debate'.
I learnt last year that the MRMW is slightly smaller at around 200 attendees and with only one presentation track the conference has a more intimate feel  yet still has a good spread of international brands, presentations and attendees.  Major brands included PayPal, Alibaba, Unilever and IBM.  With a large local Malaysian and Singapore representation attendees and presenters came from as far away as the UK, the Netherlands, South Africa, Nigeria, India and of course  Australia.
The MRMW continues to move from a purely mobile focus to a focus on new technologies and insights which I also think is adding to the quality of presentations.   Unlike last year,  there were a lot less "more mobiles than toothbrushes" talks and a lot more "this is how you do mobile research" a great step forward and clear evidence of the maturing of mobile research across the region.   So what were the highlights for me this year?  Let's start with mobile.
Mobile Research can get the blood pressure rising.

   James Fergusson from MDI Australia gave a passionate plea for us all to embrace the richer insights we can gain from a mobile first approach while Jeff Glazer of SSI passionately called out the need to simplify research in a mobile world.  Lots of open ended (James) or few open ended (Jeff)?  The debate was under way, each with evidence straight from the field.  Clearly there is much we can embrace and much still to learn from mobile based research and as a client it is great to see the passion going in to the development of mobile research approaches.

The machines are coming.

   George Chua from IBM Malaysia terrorised and fascinated us all with his tales of Machine Based Learning and how we can already automate ad hoc tasks that need intelligence.  George spoke on the five ways machines learn and also explained the benefits of MBL such as a machine working out a cancer drug can impact malaria something us mere people may never have thought of.  Robots bringing understanding to data?  Where does that leave us? Not standing still if we want a place in the future. (and if I get sick please hook me up to a robot thanks)

There's social media analysis and then there's Social Media analysis.

 When I introduced Ari Fadyl from AXA Indonesia to speak on the world's first Social Media Command Centre I had no idea I was about to be blown away.  While most of us have social media teams that are great at removing profanities and saying sorry to customers, Ari's Social Media Command Centre is truly reinventing the way real time customer insights impact on AXA's business. Fantastic work.  Ari also gave me my fact of the conference, only 2% of Indonesian's have insurance, it would be great to have that much growth potential for your product?       

Pravin is a conference genius.

   Like most who attend regional conferences I have seen Pravin Shekar present memorable and insightful presentations.   So when we had a last minute presentation drop out due to illness I suggested Pravin as an alternative.   With no time to  prepare Pravin stood up in front of a packed room and delivered a 30 minute story time that captivated the room, got us all thinking and topped off a great first day.    

Let's have some fun.

   Conferences need to be more than just learning.  Away from the stresses of the office we have the chance to let our guards down and get to know each other as people.  So inspired by the ukulele antics of Annie Pettit I decided to bring back Steve Irwin the original Croc Hunter for the 'Big Asia Debate' and share some of Australia's culture and experience.   Lots of laughs and koalas ensued, maybe just because I looked ridiculous as a cross between Steve and Olivia Newton John/ Kylie Minogue.  Thanks to Dan 'Can I call you Dan' Foreman for putting together great representation from across the region and despite my best efforts at craziness there was still insight to be had.   

Innovation is happening everywhere and we as a profession are involved

.  From the Game resorts of South Africa to the supermarkets of China, from the online world of Indonesia to right across the street from my office innovations are happening in business, marketing and advertising tracked right back to the innovations we as researchers are making every day.  This is a great sign that whatever the challenges on their way to confront us there are smart people in our profession ready to work on the solutions.      
I also learned the importance of the first 3 seconds of an online ad; how the Chinese are gamifying advertising at the point of sale and so much more I can't share here.  Finally as chair of the conference I gained insight into just how hard the teams behind conferences work to make them a success so thanks to Jasper, Jens, Irene and the team at the Merlien Institute for another great event.  So bring on MRMW APAC 2017 and if you can't wait that long don't miss ESOMAR APAC in Japan this May. I know the chair and he tells me this is going to be the greatest event of all.