Interview with Diaa Rashwan, Executive Director of Strategic Marketing Services & Innovations at Savola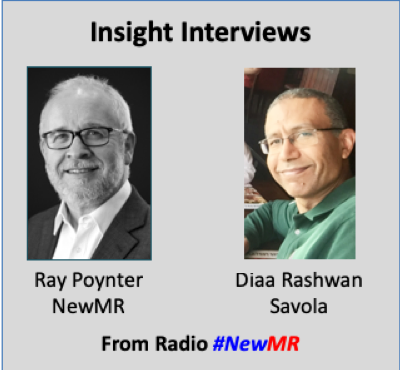 Posted by Ray Poynter, 12 March 2019
---
Radio #NewMR is conducting a series of interviews with key players from client-side insight functions to create a clearer picture of the changes that are taking place around the world. In this interview Ray Poynter chats with Diaa Rashwan, Executive Director of Strategic Marketing Services & Innovations at Savola Foods Company. Savola Foods is part of The Savola Group which owns the largest retail chain in Arabia and has major investments in other foods & retail businesses across the region. Diaa is based in Cairo, Egypt and focuses on foods.
Click below to listen to, or download, the interview with Diaa.
Key points that Diaa makes during the interview include:
Savola Foods is one of the biggest food companies in Middle-East, North Africa and Central Asia.

The main products are edible oils, sugar, pasta, seafood and bakery.

The core insights team, led by Diaa, is based in Cairo. With smaller teams in other core markets.
Savola Foods has its own in-house research agency. This covers about 90% of the research needs.

In the smaller markets the fieldwork is outsourced, but the analysis and interpreting is done in-house.

In the past the key challenge for the insights function was 'getting data'.

But now there is a lot of data, we almost have the opposite problem.
Savola Foods and its competitors can all get the same data, so that is not the key advantage.
The key challenge is how to use the data in effective ways.

In the past the team were mostly split into specialisations – for example the qualitative team and the quantitative team.

The specialisms still exist, but the teams are organised around specific business needs and markets.

In terms of external suppliers, for example agencies and platforms, they rely too much on black boxes.

They need to tailor their service closer to the needs of companies like Savola. This should help the agencies young researchers to be more creative.

Consumers are humans, and we humans are becoming less patient, we don't want to do long surveys or spend time in lengthy focus groups.

We need simpler, shorter and faster methods of collecting information from people. Digital will be part of that, but the focus has to be simpler, shorter and faster.

Agencies need to get closer to clients and understand more about the business of clients.

We need research that helps the top line (sales) and the bottom line (profit).

The big message from Diaa is to focus on context, especially the big context, not just the research question.

Think about the brand. A brand has many aspects, and a brand is also part of a portfolio – and that is part of the context, the big picture.
The portfolio is serving a human being, not just a user of your brand, the context is the human being.
---
Other Posts in this series
This interview is part of a series we are conducting, see list below
---
More about Diaa
Diaa Rashwan has a total of 28 years of professional working experience; including, 24 years in Consumer Insights & Market research, covering wide geographic scope in the Middle East, Africa, Mediterranean and Central Asia regions; and having blend of agency and client side roles. Currently leading the Strategic Marketing Services and Global Innovations Central Function of Savola Foods Company (MENA & Central Asia).
Diaa has solid record in business & functional leadership excellence, well recognized by the research community within MENA region; and speaker to global research conferences.
Previous key Positions head includes GM of Research Agency (MEMRB Int'l) in Egypt, Regional Head of Business Research of McDonald's International in MEA region covering 16 countries and Marketing Director or Savola Sudan.
Diaa holds BA degree in Business Administration from American University in Cairo, Market Research Diploma (UK) and is member of the MRS (UK) since 1995.

We need your support
We're able to offer the content we offer, because of our sponsors and our supporters. If you'd like to help ensure we continue to develop content, new ideas, and talent, then please become a Patron, via our Patreon page.