Interview with Nick Bonney, Founder of Deep Blue Thinking – The Future of Client Insights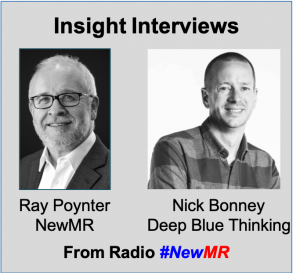 Posted by Ray Poynter, 19 May 2019
---
Radio NewMR is conducting a series of interviews with key players from market research and client-side insight functions to create a clearer picture of the changes that are taking place around the world. In this interview Ray Poynter chats with Nick Bonney who as well as having agency experience has been client-side with organisations like Orange, EE, Marks & Spencer and the UK's National Lottery.
Click below to listen to, or download, the interview with Nick Bonney.
Key points that Nick makes during the interview include:
The client trade-offs that used to be acceptable, for example time, quality, money seem to be breaking down.
Internal clients, the people the client insight teams are dealing with have, because of the rise of digital, become less patient, they think you can get the answer to most things immediately.
Clients are able to do more themselves with many forms of digital marketing and other areas of data analytics, and there is an expectation in the wider client company that this is true with research data.
Clients are keen to have more access to the data, keen to be able to do more with the new systems that are available, but once they get into the process that are often keen to have somebody help them with things like design and scripting.
In terms of agencies we seem to be seeing the death of the middle-sized projects, i.e. not quick turnaround and also not strategic – the sort of project that has been a significant revenue source for many agencies.
Client insight functions have moved from projects to combining different sources to answer business questions.
Very few agencies seem to be able to work with the same wide range of data sources as the clients have to.
In terms of agencies, the trend to consolidation will continue, not just amongst the large agencies, but among smaller ones too. Along with this a growth in the use of informal alliances or networks fo agencies.
Where the client insight team are mostly about being middle-men or dealing with procurement we might see declines, but where the insight teams are centres of excellence in terms of using multiple sources to answer business needs we might see expansion.
Agencies need to focus on their core reasons, shed some legacy practices, and become much more comfortable with a broader range of data sources.
Other Posts in this series
This interview is part of a series we are conducting, see list below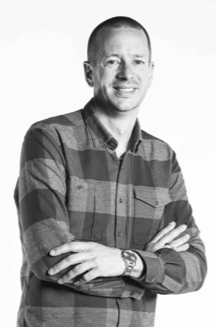 More about Nick Bonney
Nick is the founder of Deep Blue Thinking. He started his research career with NOP, RDSi and Maritz before moving client side, spending nearly 20 years leading insight teams for Orange, M&S, EE and The National Lottery. He then returned to agency land in 2017 as the MD of retail specialist, ABA Research before setting up Deep Blue Thinking in 2018. Nick set up Deep Blue to help clients deliver greater impact from their insight resource, working with a range of partners to deliver agile solutions without the overheads of the traditional agency model. Nick was proud to made a fellow of the MRS in 2018.