Interview with Elaine Rodrigo, Chief Strategy & Insights Officer Danone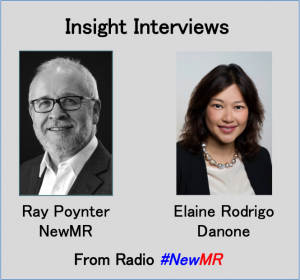 Posted by Ray Poynter, 24 March 2019.
---
Radio NewMR is conducting a series of interviews with key players from client-side insight functions to create a clearer picture of the changes that are taking place around the world. In this interview Ray Poynter chats with Elaine Rodrigo, the Chief Strategy & Insights Officer at Danone.
Click below to listen to, or download, the interview with Elaine.
Key points that Elaine makes during the interview include:
Elaine head Strategy and Insights, which looks after consumer, shopper insights, and data analytics.
The team is split across in-country local business units, worldwide business units, and a small central team.
The role of Strategy and Insights has changed because change (in both the business world and the wider world) has become constant.
One area of change has been suppliers. There are now a large number who Elaine had not worked with or in some cases had not even heard of two years ago – and many of them are only three or four years old.
Danone still works with large agencies, but the work is changing, getting closer to the customer and accommodating the speed of change.
Partnerships are key, partnership to help smaller companies scale up, and with the larger companies to identify the people and approaches that can make a difference.
The near future, two to four years, is going to provide more data, more technology platforms, and more DIY.
The insight teams will move towards a planner-type role, where storytelling is key. There will be some data analysts, some experts in social intelligence – but the majority will be focusing on 'humanising data'.
There is a shift happening, away from focusing on tech, and towards focusing on people (but using tech to do it).
Agencies need to stop moaning about smaller client budgets and lower cost research. The old world has changed.
The focus is shifting away from proposing data collection projects, towards focusing on solutions.
Research and insights is at an inflexion point, we can grasp the future, but we need to do it once piece at a time.
Other Posts in this series
This interview is part of a series we are conducting, see list below
---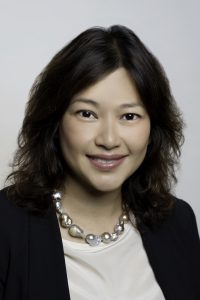 ---
More about Elaine
Elaine joined Danone as Chief Officer of the Strategy & Insights function in January 2017. She is responsible for leading Danone's continued efforts at keeping the consumer at the centre to drive sustainable growth, and achieve the company's mission to bring health through food to as many people as possible #oneplanetonehealth. A key part of her role is to lead the transformation of the S&I function to be future-ready in today's disruptive consumer-market paradigm. She is based in the Paris HQ of the company.
Over the course of her career, Elaine has led teams across various CPG companies, global and regional, developed and developing markets. She started her career in academia, and spent a number of years in research agencies before moving into CPG in 2001.
Prior to joining Danone, Elaine built teams in both Global and Regional positions in Mondelez International. Joining the company in 2007 in Kraft Asia Pacific, Elaine led the regional Consumer Insights & Strategy team across 14 countries. In 2013, she moved to a role in the Global Biscuits Leadership team, where she was responsible for insights across all markets including North America, Europe, and Developing markets with particular focus on China, Brazil and India. In her 9+ years in Mondelez, Elaine legacy lies in building high-performing teams that led the company on a path towards becoming a truly consumer-centric organisation that put consumers first. Adding the "science" to the "art of insights", Elaine and her team also drove the use of advanced analytics for better marketing investment choices, and built shopper insights capabilities in countries.
Prior to joining Kraft Foods, Elaine was in Reckitt Benckiser, where she spent 7 years in a variety of roles in the Market Research function spanning a Global Category MR Director position in the UK HQ, as well as a Developing Markets Market Research Director in Singapore. Prior to this, Elaine spent some years in research agencies Research International (Kantar) and Synovate (Ipsos).
Elaine has a Ph.D in Marketing, and Bachelor of Business (Honours) (Marketing) from Monash University, Melbourne, Australia. She tutored and lectured for 4 years at Monash while completing her degrees.
Elaine lives in Paris with her husband and two daughters, which is the fourth country she is lived in after Singapore, Australia and UK.

We need your support
We're able to offer the content we offer, because of our sponsors and our supporters. If you'd like to help ensure we continue to develop content, new ideas, and talent, then please become a Patron, via our Patreon page.