Interview with Mr Naoki Takahashi, Corporate Market Intelligence, Nissan Motor Company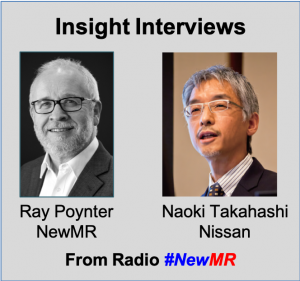 Posted Ray Poynter, 11 May 2019
---
Radio NewMR is conducting a series of interviews with key players from client-side insight functions to create a clearer picture of the changes that are taking place around the world. In this interview Ray Poynter chats with Mr Naoki Takahashi who heads the insights function at Nissan Motor Company.
Click below to listen to, or download, the interview with Mr Takahashi.
Key points that Mr Takahashi makes during the interview include:
The insights function is called MI (Market Intelligence) at Nissan and is responsible for consumer research and data analysis – the only entity within Nissan to represent customers.
The MI team (of about 150 people) is spread around the globae, with particular reference to key markets such as China, USA, France, Japan, India, Brazil etc.
MI provides analysis, recommendations, and proposals to support strategy building and decision making.
Whenever decisions are being made about issues that impact customers there is always a seat for MI, something with has been earned over the years.
Speed is one of the key changes. Historically the automotive business was relatively slow, but this is no longer true.
Market research is expected drive change, not to simply follow change.
Non-traditional approaches are growing, and MI is using trial and error to leverage them for customer understanding.
However, some of these non-traditional options are also used by other teams (not part of MI) for their business purposes not necessarily relevant to customer understanding.
MI has expertise to use multiple sources data sources for customer understanding.
In terms of working with suppliers there are big differences around the world, especially width and depth of data, where China is a key location.
They will be in the list of primary partners in the next few years.
One of the key changes that suppliers need to make is to move away from the old business model of being single source, single project focused. The old model bases the revenue on being able to gather some new and relevant data, the future model needs to focus on the ability to work on business problems and utilise many different data sources. Because, the insight industry and corporate insight function only can develop customer context from multiple data sources.
Perhaps the agency of the future can be a one-stop provider of answers based on multiple sources, owned by multiple players.
Other Posts in this series
This interview is part of a series we are conducting, see list below
More about Mr Naoki Takahashi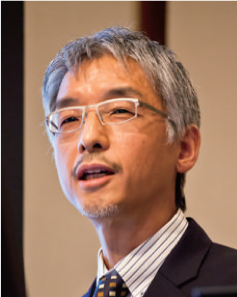 More about Mr Naoki Takahashi
Multifaceted professional in the area of corporate MR (marketing research) global function management, cross functional business process innovation/improvement and MR industry leadership.
Through 35+ year career in MR/data analytics domain in Nissan Motor Co., Ltd. (joining 2003) and Intage Inc. (joining 1983), has extensive experiences in diversified areas in terms of industry, business issues and methodology, etc., including
global MR scheme development/management
marketing ROI assessment scheme development/assimilation
creation of vision and mission and future goal for the corporate MR function
global MR function capability scheme and training program development/management – sales forecast scheme development/management
customer development model development, and many more.
Has worked as a leader of multi-national initiatives to provide innovation/improvement for key business process in the areas including product planning, marketing planning, function KPI management, etc.
Has played key roles to contribute to MR industry via taking leadership for the collaborative initiative between MR clients/suppliers, working as a conference committee member, and providing presentations/ lectures at ESOMAR and other industry seminars and university courses on regular basis.
Education includes: MBA, Kellogg Graduate School of Management, Northwestern University BA in Sociology, Doshisha University.